Erratum to: Studies on the therapeutic effect of propolis along with standard antibacterial drug in Salmonella enterica serovar Typhimurium infected BALB/c mice
BMC Complementary and Alternative Medicine
BMC series – open, inclusive and trusted
2017
17:23
Received: 16 December 2016
Accepted: 16 December 2016
Published: 5 January 2017
The original article was published in BMC Complementary and Alternative Medicine 2016 16:485
Following publication of the original article [
1
] it was brought to our attention that some incorrect superscripts had been added to the three bars for group CP4 in Fig.
1
. Please therefore see below for the corrected figure: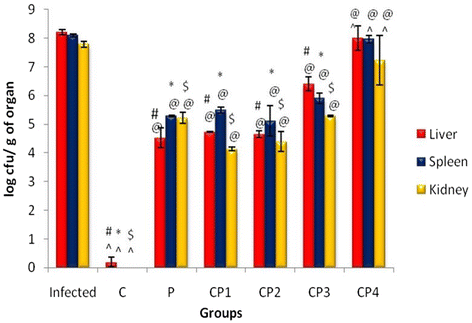 Please note that the original article was corrected on the BioMed Central website.
Open AccessThis article is distributed under the terms of the Creative Commons Attribution 4.0 International License (http://creativecommons.org/licenses/by/4.0/), which permits unrestricted use, distribution, and reproduction in any medium, provided you give appropriate credit to the original author(s) and the source, provide a link to the Creative Commons license, and indicate if changes were made. The Creative Commons Public Domain Dedication waiver (http://creativecommons.org/publicdomain/zero/1.0/) applies to the data made available in this article, unless otherwise stated.
(1)
Department of Zoology, Panjab University, Chandigarh, India
(2)
Department of Microbiology, Panjab University, Chandigarh, India
Kalia, et al. Studies on the therapeutic effect of propolis along with standard antibacterial drug in Salmonella enterica serovar Typhimurium infected BALB/c mice. BMC Complementary and Alternative Medicine. 2016;16:485.View ArticlePubMedPubMed CentralGoogle Scholar