Research article

Open Access

Open Peer Review
This article has Open Peer Review reports available.
Evaluation of Ajuga bracteosa for antioxidant, anti-inflammatory, analgesic, antidepressant and anticoagulant activities
BMC Complementary and Alternative Medicine
BMC series – open, inclusive and trusted
2016
16:375
Received: 22 May 2016
Accepted: 15 September 2016
Published: 27 September 2016
Abstract
Background
Ajuga bracteosa has been extensively used traditionally for the treatment of a variety of diseases. The aim of the study was to scientifically validate the wide-scale exploitation of A. bracteosa in folk medicine various in vitro and in vivo assays. Moreover, these activities were related to the intrinsic biologically active phytoecdysteroids of A. bracteosa.
Methods
Aerial and root parts of A. bracteosa were first extracted separately with chloroform (AbCA and AbCR) and the residue was again extracted with methanol (AbMA and AbMR). Total flavonoid and phenolic contents were assayed as quercetin (QE) and gallic acid equivalents (GAE), respectively. These extracts were analyzed for in vitro antioxidant assessment including DPPH and H2O2 (% inhibition of free radicals), and reducing power and phosphomolybdenum methods (ascorbic acid equivalents AAE mg/g DW). Further, these extracts were assayed in vivo in separate groups of Sprague–Dawley rats for carrageenan induced rat paw edema inhibition, hotplate antinociception, forced swim antidepression and anticoagulation. Dose of each crude extract and standard drug given to rats was 200 mg/Kg- and 10 mg/10 mL/Kg body weight respectively. Plant extracts and standard drugs were administered orally, 60 min prior to the conduction of assays. Moreover, biologically active phytoecdysteroids were screened in A. bracteosa with the help of RP-HPLC.
Results
AbMA represented highest values of flavonoids (QE 1.98 % DW) and phenolic contents (GAE 5.94 % DW), significantly scavenged DPPH radicles (IC50 36.9) and reduced ferric ions with 718.4 mg ascorbic acid equivalent/g (AAE). Highest total antioxidant capacity was expressed by AbMR (927 mg AAE) with an IC50 value 19.1 μg/mL. The extracts which were found potent anti-oxidants, were also good at in vivo activities. AbMA significantly reduced edema in all the three hours of treatment (67.9, 70.3 and 74.3 %). AbMA also showed maximum nociceptor suppression in analgesic assay by delaying the time to start licking of paws in rats (57.7 ± 4.9 s). In addition, maximum anti-coagulation was also exhibited by AbMA (89.3 s), while all extracts were found strong antidepressants (≤15.66 s immobility time). Screening of biologically active phytoecdysteroids revealed the presence of 20-hydroxyecdysone (20-HE), makisterone (MKA), cyasterone (CYP) and ajujalactone (AJL). Total phytoecdysteroid content found in A. bracteosa was 1232.5 μg/g DW and 20-HE was most abundant (1232.5 μg/g DW) as compared to other phytoecdysteroids.
Conclusion
Based on the tested in vitro and in vivo activities, AbMA was found to be a promising bioactive extract. These activities can be attributed to the intrinsic polyphenols and phytoecdysteroids contents of A. bracteosa.
Keywords
Ajuga bracteosa AntioxidantsAnti-inflammatoryPhytoecdysteroidsRP-HPLCAntidepressant
Background
Stress stimuli (biotic and abiotic) and intrinsic oxygen metabolism generate reactive oxygen species (ROS) as by-products. ROS production inactivates enzymes and damages vital cellular organelles and membranes, consequently causing cancers, aging, chronic inflammation, and plays a role in HIV infection, diabetes etc. [1–3]. ROS also modulate the principal neurotransmitters involved in the neurobiology of depression. Oxidative stress is implicated in depression and anxiety [4–6] and foremost depression is linked to lower levels of several endogenic antioxidant arrays [7]. This indicates that oxidative stress processes might also play a relevant role in depression. ROS are also known to provoke inflammation and associated pain caused by tissue injury [8].
Antioxidants protect biological systems from deleterious effects of ROS by free radicals scavenging mechanism. Antioxidants can mitigate ROS effect by reacting with free radicals, blocking the enzyme generating free radicles and provoking the expression of antioxidant enzymes [9]. Antioxidants include carotenoids, anthocyanidins, catalase, glutathione peroxidase ferritin, superoxide dismutase, ceruloplasmin, catechins, vitamin C, tocopherols vitamin E, glutathione and flavonoids etc. [10, 11]. Synthetic antioxidants like butylated hydroxytoluene (BHT) and butylated hydroxyanisole (BHA) show toxicity to living systems [12]. Moreover, myocardial infarctions caused by intravascular blood clots are major cause of deaths worldwide. Although heparin has been used to treat acute thrombotic disorders as a primary drug, yet it poses some complications in its clinical usage [13, 14]. To cope with these problems, there is an increasing demand of alternative antioxidants and antithrombotic agent (anticoagulants). Medicinal plants have historically been used as primary source of antioxidants [15] and anticoagulants [16].
Ajuga bracteosa Wall. ex. Benth. (Family Labiateae) is a perennial plant and is distributed widely in Kashmir and sub-Himalayan tract. It is recommended in Ayurveda to treat numerous ailments [17–19]. Medicinal properties of A. bracteosa, such as astringent, anthelmintic, anti-inflammatory and anti-microbial led its use into folk medicine [17]. In a recently reported quantitative ethnobotanic survey of Khyber Pakhtunkhwa (KPK) province of Pakistan, 92 medicinal plants species were listed. Among them, A. bracteosa represented highest usage frequency (6) especially as blood purifier, carminative, anti-cough, anti-asthma, anti-jaundice and as a cooling agent [20]. Decoction of its bark is used to cure jaundice and sore throat [21]. Leaves extract of A. bracteosa is used as a remedy for acne, pimples, stomach disorders, ear and throats infections and headache. Moreover the extract of leaves of A. bracteosa is regarded as blood purifier and cooling agent e.g. effective in diuretic functions [22]. Moreover, it is found to be pharmacologically active against cancer, hypoglycemia, protozoal diseases, spasmodic activity, gastric ulcer and liver fibrosis [23, 24].
Various extracts of A. bracteosa has been evaluated by some groups worldwide to assess its pharmacological applications. Ethanolic extract of A. bracteosa (70 %: EEAB), when employed over mouse ear edema, resulted in a significant and dose-dependent anti-inflammatory activity at the dose of 0.5 and 1.0 mg/ear [18]. EEAB also resulted in a significant and dose dependent inhibitory effect against acute and chronic arthritic models of albino rats comparable to aspirin [17]. In mice models, CCl4 induced hepatic fibrosis was treated with chloroform extract of A. bracteosa which shielded the liver from injury by reducing the activity of plasma aminotransferase and inhibiting the hepatic mRNA expression of CD14 and TNF-α [24]. Various extracts of A. bracteosa was assessed in Swiss albino mice models for their analgesic potentials in acetic acid-induced writhing test and tail immersion test. Chloroform and aqueous extracts showed significant and dose-dependent analgesic effects at a 200 and 400 mg/Kg, i.p doses [23]. Some extracts of A. chamaecistu were analyzed for formalin induced antinociceptive activity in mice. Hexane fraction at 200 mg/Kg body weight of mice (BWM) caused significant analgesic effects on the chronic phase (15–60 min after formalin injection). However, to obtain the same analgesic effects by aqueous and diethyl ether extracts, a dose of 400 mg/Kg BWM was required [25]. Besides these extracts, methanolic extract of A. bracteosa induced a strong in vivo anti-nociceptive effect in treated animals at a dose of 500 and 750 mg/Kg BWM in three different analgesic assays [26].
These activities can be attributed to the intrinsic natural products of A. bracteosa like phytoecdysteroids, withanolides, clerodanes etc. Phytoecdysteroids are attributed to impart the antioxidant character in A. bracteosa. They also regarded to prevent body from infections and depression [27]. Ecdysteroids, major constituents of A. bracteosa has been exploited commercially and an ecdysteroid containing adaptogenic preparation (Leventon) was found to increase in anticoagulation potential in athletes [28]. Therefore, the assessment of a variety of extracts of A. bracteosa for in vitro antioxidant activities and in vivo anti-inflammatory, analgesic, antidepressant and anticoagulant activities on Sprague–Dawley rats were performed.
Methods
Equipment, chemicals and reagents
The solvents were purchased from Sigma Aldrich, GmbH Buchs Switzerland. Whatman filter paper 1 was used to filter the extracts which were concentrated in BUCHI Rotavapor R-200 rotary evaporator. Dried crude extracts were dissolved with the help of Elmasonic Sonicator (E30-H Germany). Salts, standards, chemicals and reagents were purchased from Sigma Aldrich USA, Merck Germany, Panreac Quimica SA Barcelona Spain and BDH Reagents & Chemicals England. Change in absorbance was recorded by UV–VIS Spectrophotometer (Agilent technologies). For hot plate analgesia, Eddy's hot plate (IKA, Germany) was used. Paw volume was measured by Plethysmometer (Ugo Basile 7140).
Collection and identification of plant
Ajuga bracteosa
Wall. ex Benth. was collected from University Campus of Quaid-i-Azam University (QAU) (Fig.
1
). The plant was identified by taxonomist in Plant Sciences department wide a voucher specimen (HMP-460) which was deposited in "Herbarium of medicinal Plants of Pakistan" at QAU Islamabad, Pakistan.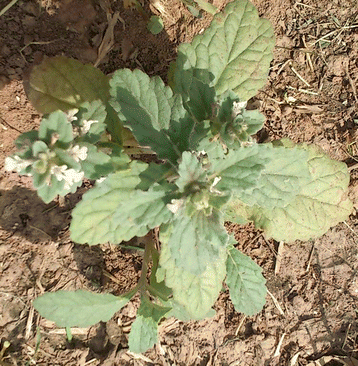 Preparation of extracts
Fresh plant material was rinsed with distilled water and aerial part was separated from root. Both parts were air dried under shade. Extract was prepared by soaking ground plant powder (both parts separately) in chloroform. After 24 h, chloroform extract was filtered with white cotton cloth. The residue was extracted two more times in the same way. Mixture was further filtered and concentrated in rotary evaporator at 40 °C. The subsequent residue was extracted with methanol in the same way as described before. Semi-liquid extracts were dried in fume hood and stored at −20 °C for further usage. The overall scheme of extraction process is shown in Fig.
2
.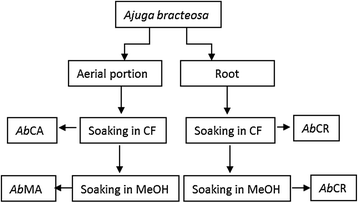 The names of extracts were abbreviated as; the first two italicized letters represent plant (Ab, Ajuga bracteosa), the third letter represents the solvent (M, Methanol; C, Chloroform) and the last letter represent the plant part (A, Aerial portion; R, Root). For example AbMA represents the methanolic extract of aerial parts of A. bracteosa.
Determination of total flavonoid content
Aluminum chloride colorimetric method [29] was used to assay total flavonoid content with some modifications. Briefly, an aliquot of 0.5 mL of various extracts (1 mg/mL) were added to 1.5 mL of methanol, followed by the addition of aluminum chloride (0.1 mL, 10 %), potassium acetate (1 M, 0.1 mL) and distilled water (2.8 mL). This reaction blend was incubated for 30 min at room temperature and its absorbance was recorded with spectrophotometer at 415 nm. The calibration curve (0 μg/mL to 8 μg/mL) was plotted by using quercetin as a standard. The total flavonoids were expressed as mg quercetin equivalent (QE/g) dry weight.
Determination of total phenolic content
Folin-Ciocalteu reagent method was used to measure total phenolic content [29]. Briefly, an aliquot of various extracts (0.1 mL, 4 mg/mL) was mixed with Folin-Ciocalteu reagent (0.75 mL, 10-fold diluted with dH2O). The resultant mixture was left at room temperature and exactly after 5 min sodium carbonate (0.75 mL of 6 %) was added to it. It was followed by a 90 min of reaction time and finally its absorbance was recorded at 725 nm. The standard calibration (0 μg/mL to 25 μg/mL) curve was plotted by using Gallic acid as standard and total phenolic content was expressed as mg Gallic acid equivalent (GAE/g) per gram dry weight of extract.
In vitro antioxidant assays
Extracts of A. bracteosa were analyzed for their antioxidant potential at 1000, 500, 250, 125, 62.5, 31.25, 15.63 and 7.81 μg/mL concentrations (prepared in DMSO). In all the assessment methods, ascorbic acid was used as positive control. For a more reliable conclusion, extracts were assayed by four different antioxidant determination methods.
Extraction of phytoecdysteroids and RP-HPLC analysis
Six ecdysteroids screened in the study were; 20-ydroxyecdysone (20-HE), Ajugalactone (AJL), Sengosterone (SG), Cyasterone (CYP), Polypodine (PoB) and Makisterone A (MKA) (Fig.
3
). For the extraction and analytical HPLC of ecdysteroids, already optimized protocol was followed [
42
].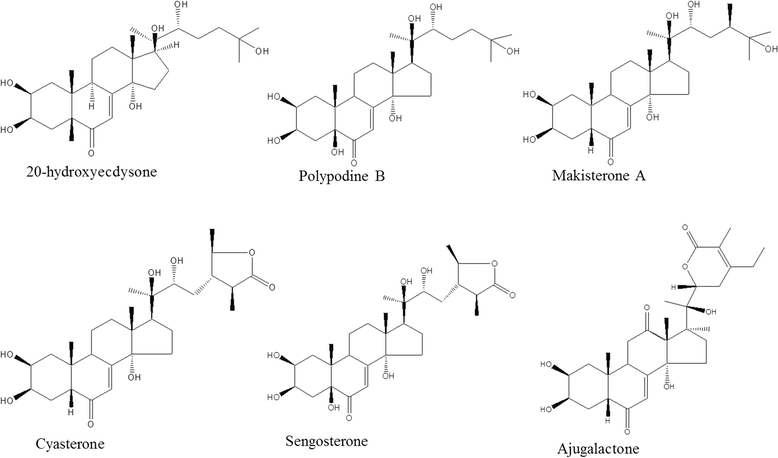 Statistical analysis
Crude extracts were assessed in vitro at eight different concentrations were triplicated. The same extracts were assessed in vivo at one concentration and triplicated with three rats in each replicate except analgesic assay which was hexaplicated. Statistical analysis consisted of descriptive statistics using SPSS Statistical Package (version 16.0) and represented as means ± standard deviation.
Conclusion
We for the first time report a broad range of in vitro and in vivo activities of methanolic and chloroform extract of different parts of A. bracteosa. Methanolic extract of aerial parts of plant represented promising in vitro antioxidant and in vivo anti-inflammatory, analgesic, antidepressant and anticoagulant properties and can be suggested as a potent elixir. These activities can be linked to intrinsic active compounds like phytoecdysteroids which are found in highest amounts in methanolic extracts.
Abbreviations
20-HE:

20-hydroxyecdysone
AAE:

Ascorbic acid equivalents
AbCA:

A. bracteosa chloroform extract
AbCR:

A. bracteosa chloroform root extract
AbMA:

A. bracteosa methanolic extract
AbMR:

A. bracteosa methanolic root extract
AJL:

Ajujalactone
BHA:

Butylated hydroxyanisole
BHT:

Butylated hydroxytoluene
BWM:

Body weight of mice
CYP:

Cyasterone
DMSO:

Dimethyl sulfoxide
DPPH:

2 2- Diphenyl-1-picryl-hydrazyl
DW:

Dry eight
EEAB:

Ethanolic extract of A. bracteosa
GAE:

Gallic acid equivalents
KPK:

Khyber Pakhtunkhwa
MKA:

Makisterone
QE:

Quercetin
ROS:

Reactive oxygen species
RP-HPLC:

Revrs phase high perormane liui homtograpy
Declarations
Acknowledgements
Six standard ecdysteroids were kindly provided by Prof. Josep Coll-Toledano, Department of Biological Chemistry and Molecular Modeling, Spanish National Research Council (SNRC), Barcelona, Spain. We thank the chromatography team at Parc Científic de Barcelona, Spain for RP-HPLC experiments. This project was supported by The Higher Education Commission of Pakistan.
Funding
WKK received a research fellowship from Higher Education Commission (HEC) Pakistan (PIN NO.106-1559-BM6-048).
Availability of data and materials
The plants were collected from the Quaid-i-Azam University campus Islamabad and identified by Prof. Dr. Rizwana Aleem Qureshi (taxonomist) in Plant Sciences, Department Quaid-i-Azam University (QAU). A voucher specimen (HMP-460) was deposited in the "Herbarium of Medicinal Plants of Pakistan" in QAU Islamabad, Pakistan.
Authors' contributions
WKK conceived the study, performed in vitro experiments, carried out RP-HPLC of phytoecdysteroids and wrote the manuscript. TA helped drafting the manuscript, performed statistical analysis and helped HI in in vivo assays. HI carried out in vivo assays and wrote the relevant portion. ED helped to design of the study, processed the plant samples and helped in write-up of the manuscript. BM supervised the study and reviewed the manuscript. All the authors read and approved the manuscript.
Competing interests
Authors and the funding body (Higher Education Commission) declare no competing financial interests.
Consent for publication
Not applicable.
Ethics approval and consent to participate
Rats were handled according to the Ethical Guidelines for Laboratory Animals of Quaid-i-Azam University Islamabad and the ARRIVE guidelines. The study protocol for laboratory animal use and care was approved by the Institutional Animal Ethics Committee (Quaid-i-Azam University Islamabad, Pakistan).
Open AccessThis article is distributed under the terms of the Creative Commons Attribution 4.0 International License (http://creativecommons.org/licenses/by/4.0/), which permits unrestricted use, distribution, and reproduction in any medium, provided you give appropriate credit to the original author(s) and the source, provide a link to the Creative Commons license, and indicate if changes were made. The Creative Commons Public Domain Dedication waiver (http://creativecommons.org/publicdomain/zero/1.0/) applies to the data made available in this article, unless otherwise stated.
Authors' Affiliations
(1)
Department of Botany, The University of Poonch, Rawalakot, Pakistan
(2)
Department of Bioinformatics and Biosciences, Capital University of Science and Technology, Islamabad, Pakistan
(3)
Department of Biochemistry, Faculty of Biological Sciences, Quaid-i-Azam University, Islamabad, Pakistan
(4)
Department of Biochemistry and Molecular Biology, University of Gujrat, Gujrat, Pakistan