Correspondence

Open Access

Open Peer Review
This article has Open Peer Review reports available.
High prevalence but limited evidence in complementary and alternative medicine: guidelines for future research
BMC Complementary and Alternative Medicine
The official journal of the International Society for Complementary Medicine Research (ISCMR)
2014
14:46
Received: 12 August 2013
Accepted: 4 February 2014
Published: 6 February 2014
Abstract
The use of complementary and alternative Medicine (CAM) has increased over the past two decades in Europe. Nonetheless, research investigating the evidence to support its use remains limited. The CAMbrella project funded by the European Commission aimed to develop a strategic research agenda starting by systematically evaluating the state of CAM in the EU. CAMbrella involved 9 work packages covering issues such as the definition of CAM; its legal status, provision and use in the EU; and a synthesis of international research perspectives. Based on the work package reports, we developed a strategic and methodologically robust research roadmap based on expert workshops, a systematic Delphi-based process and a final consensus conference. The CAMbrella project suggests six core areas for research to examine the potential contribution of CAM to the health care challenges faced by the EU. These areas include evaluating the prevalence of CAM use in Europe; the EU cititzens' needs and attitudes regarding CAM; the safety of CAM; the comparative effectiveness of CAM; the effects of meaning and context on CAM outcomes; and different models for integrating CAM into existing health care systems. CAM research should use methods generally accepted in the evaluation of health services, including comparative effectiveness studies and mixed-methods designs. A research strategy is urgently needed, ideally led by a European CAM coordinating research office dedicated to fostering systematic communication between EU governments, the public, charitable and industry funders, researchers and other stakeholders. A European Centre for CAM should also be established to monitor and further a coordinated research strategy with sufficient funds to commission and promote high quality, independent research focusing on the public's health needs and pan-European collaboration. There is a disparity between highly prevalent use of CAM in Europe and solid knowledge about it. A strategic approach on CAM research should be established to investigate the identified gaps of knowledge and to address upcoming health care challenges.
Keywords
Complementary and alternative medicineResearch strategyRandomized clinical trialsSafetyQualitative studiesComparative effectiveness research
Background
Complementary and alternative medicine (CAM) in the European Union (EU) includes practices such as acupuncture, anthroposophic medicine, aromatherapy, herbal medicine, homeopathy, kinesiology, massage, naturopathy, shiatsu, traditional Chinese medicine, and yoga. Over the last 25 years, the use of CAM has risen in Western industrialized countries [1–4] and CAM has been used often by patients with chronic conditions, such as cancer or chronic pain, or in situations where conventional treatment options have been limited [5].
The new EU framework programme 'Horizon 2020' emphasizes the consequences of demographic change in the EU, focusing in particular on elderly patients, who often experience multiple, chronic conditions. CAM may therefore have an important role to play in improving health and well-being in an ageing EU population, including the management of chronic conditions, the prevention of illness, and the promotion of health. Due to substantial gaps in knowledge about CAM, the precise role of CAM in these areas remains unclear.
In 2009 the European Commission called for coordinated and collaborative efforts to assess the current state of CAM in Europe in terms of definition, legal status, prevalence, provision and the attitudes of EU citizens as well as to identify the best methodological and strategic approaches to research in this field. The coordination project CAMbrella included 16 institutions from 12 European countries (Figure
1
) and was funded by the 7th Framework Programme to address these issues in a systematic manner [
6
].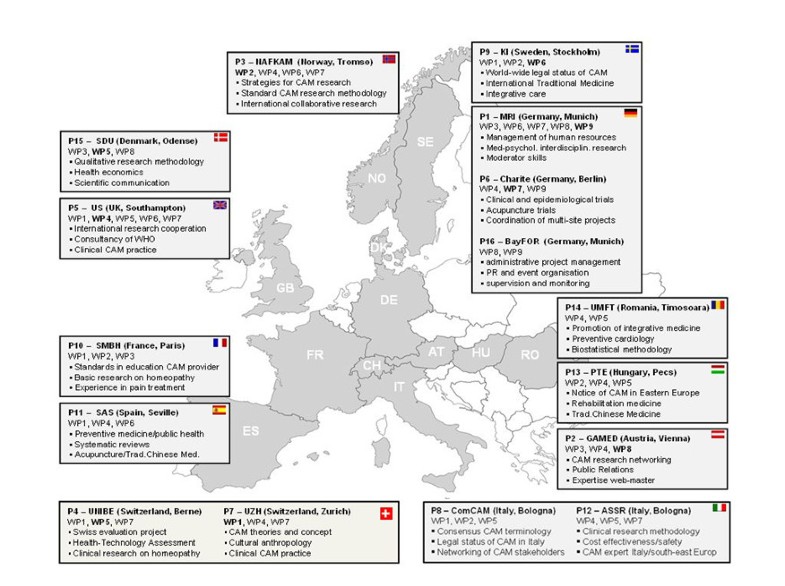 Based on the findings of this assessment, a roadmap was developed to point out which areas of CAM research appear promising, which methods should be applied, and how the EU could foster a more coordinated approach. Our suggestions are limited to the field of clinical and epidemiological research. Basic research - although also of great relevance - is not addressed within CAMbrella. The recommendations made as part of the roadmap are based on the knowledge and experience of European and international researchers in the field, and are designed to improve the quality and methodology of CAM research, as well as its relevance to clinical decision making.
The aim of this article is to present the CAMbrella research roadmap based on the key results of the main CAMbrella work packages to a wider audience of scientists, health care providers, decision makers and the public.
Methods
The CAMbrella roadmap includes strategic and methodological recommendations for future CAM research and was developed systematically over three years (2010–12) (Figure
2
). Within each CAMbrella work package, we used different methods to answer the questions raised, including systematic reviews, qualitative data analysis, workshops, focus groups, qualitative data synthesis, Delphi consensus techniques, and expert conferences. In particular, the CAMbrella group conducted four systematic reviews to describe the current state of legislation pertaining to CAM in the EU [
7
], citizens' and patients' attitudes and needs regarding CAM [
8
], the prevalence of CAM use [
9
], and key issues in clinical and epidemiological research on CAM [
10
]. Furthermore, CAM definitions and terminology were analysed and a pragmatic definition of CAM was developed [
11
]. We also evaluated the current state of CAM provision in the EU [
12
]. Lastly, international perspectives on CAM research were assessed as part of a qualitative study that included experts and organizations from Asia, Australia, Europe and North America [
13
] (Table
1
).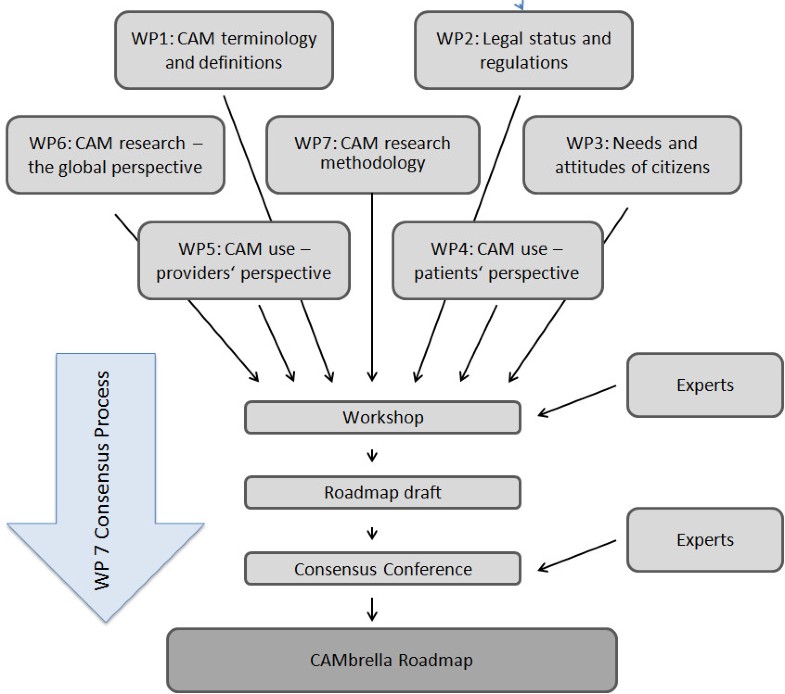 Table 1
Work packages within the CAMbrella project
| Work package | Lead institution | Goal | Methods | Reference |
| --- | --- | --- | --- | --- |
| WP1 | University of Zurich | Definition of CAM | Expert consensus panel | [11] |
| WP2 | University of Tromsø | Legal status | Systematic review of legislative documents | [7] |
| WP3 | University of Southern Denmark, Odense | Citizens' perspective | Systematic review of scientific literature | [8] |
| WP4 | University of Southampton | Patients' perspective | Systematic review of scientific literature | [9] |
| WP5 | University of Bern | Providers' perspective | Review of scientific literature/grey literature and personal communication with key stakeholders | [12] |
| WP6 | Karolinska Institutet, Stockholm | International perspective | Interviews with key international institutions | [13] |
| WP7 | Charité University Medical Center, Berlin | Research methods | Systematic review of scientific literature | [10] |
| WP8 | International Academy for Holistic Medicine, Vienna | Dissemination and communication | - | [15] |
| WP9 | Technische Universität München | Project coordination | - | [6] |
These studies served as the basis for a three-day expert workshop on CAM research strategies and methods, which took place in Castellaro, Italy, from September 7-9, 2011. A draft of the recommendations was developed and finalized in two written Delphi rounds between January and March 2012. The final draft was sent to all members of the CAMbrella consortium and to the CAMbrella advisory board in April 2012 for feedback. A revised version was presented at a one-day consensus conference, which took place in Järna, Sweden, on May 10, 2012. The roadmap was revised following the suggestions of the participants in the consensus conference and ultimately approved by CAMbrella's Scientific Steering Committee in September 2012.
A total of 36 experts participated in the process, including all members of the CAMbrella consortium (n = 24, from 12 different European countries) (Figure 1); the CAMbrella Advisory Board (n = 7, from 5 European countries), which consisted of CAM doctors, practitioners, patient advocates and manufacturers; and 5 external, internationally recognized experts on CAM research methodology from the USA (1), the UK (2) and Germany (2).
Findings
The CAMbrella vision for the year 2020 is that research into CAM will provide a broad but relevant and comprehensive evidence base, enabling the EU public and health care providers to make informed decisions about CAM use, both for individuals and for society as a whole.
A main issue is to define clinical situations in which CAM treatment is appropriate. The CAMbrella roadmap puts forward a research agenda for CAM that is designed to address future health care challenges in the EU. In particular, these include the increasing prevalence of chronic conditions and ongoing financial constraints.
To achieve this goal, concerted efforts are needed. The CAMbrella roadmap provides an outline for quantitative and qualitative research, suggesting six core areas covering important gaps in knowledge (Table
2
). Hence, the roadmap also suggests a methodological framework for future CAM research based on the experiences of the past and makes a range of recommendations on steps the EU could take to foster these efforts.
Table 2
Overview of key research in the CAMbrella research roadmap
| Key research areas | Aim | Recommendation | Research methods | Specifics |
| --- | --- | --- | --- | --- |
| CAM prevalence | To obtain valid, comparable and comprehensive data on prevalence of CAM use | Structured EU-wide approach | Cross-sectional studies | Using standard definitions, develop standardized questionnaires for surveys in European languages |
| Needs and attitudes of citizens and providers | To address issues that are relevant to the EU public | Obtain data on how the diversity of the EU influences attitudes about CAM | Cross-sectional studies; qualitative interview studies | Involve the public as stakeholders in project development |
| CAM safety | To allow the risks of CAM to be estimated | Address safety in studies and establish an EU-wide monitoring system | Observational studies; clinical studies; single case studies | Clarify safety terminology; address safety in CAM studies where appropriate |
| Comparative effectiveness research | To support clinical and health care policy decision making with suitable research data | Future research should primarily investigate CAM in real-world settings | Comparative effectiveness research, including pragmatic clinical trials | Compare meaningful alternatives; include health economic evaluations |
| Effects of context and meaning | Understand the extent to which the clinical effects of CAM are due to non-specific treatment effects | Assess the nature, size and influence of potential non-specific treatment effects | Mixed methods (qualitative studies within clinical trials) | Research question is not specific to CAM, but of general interest |
| Models of CAM integration | To investigate different models of CAM integration | Describe, evaluate and further develop models for CAM integration | Mixed methods | Include the public's view on models of CAM integration |
Summary
Although the volume of research into CAM in Europe has increased over the past two decades, there are still insufficient data on the prevalence, effectiveness, efficacy, safety and health economic benefits of most CAM treatments. As a result, patients, providers and other stakeholders are unable to access rigorous and reliable evidence on CAM. We have put forward a roadmap for a strategic research policy to address this deficiency and create a foundation for informed decisions. Our recommendations are based on extensive systematic reviews investigating the current state of CAM in the EU and were shaped in collaboration with key international stakeholders and CAM research experts in a transparent and structured manner.
CAMbrella recommends that we develop:
 reliable knowledge about the provision and use of CAM in the EU, especially with regard to national differences;

 real-world knowledge to help patients and health care providers decide when CAM treatment is appropriate; and

 knowledge about the EU public's interest in CAM, especially regarding different models of CAM and conventional health care integration, and the implementation of this interest in the research agenda.
CAM research must use generally accepted and appropriate research methods to build a solid evidence base. These include quantitative and qualitative approaches, particularly in mixed-methods studies.
The CAMbrella research roadmap reflects international trends in research [13]. It can be compared to the latest NCCAM strategic plan "Exploring the Science of CAM: Third Plan 2011-2015" [27], whose five main objectives are (1) to advance research on mind and body interventions, practices and disciplines, (2) advance research on CAM natural products, (3) increase understanding of real-world patterns and outcomes of CAM use and its integration into health care and health promotion, (4) to improve the capacity of the field to carry out rigorous research and (5) to develop and disseminate objective, evidence-based information on CAM interventions. Objectives 3 to 5 are comparable to the research focus in CAMbrella, with its strong emphasis on CAM research in real-world settings and the development and improvement of research capacity. Importantly, however, CAMbrella pays special attention to the situation in the EU. The lack of data on CAM prevalence and provision, as well as the diversity of the EU public's interests in CAM, are central aspects of the CAMbrella roadmap.
The CAMbrella research roadmap identified core areas to evaluate CAM within the EU systematically using generally accepted research methodology, including mixed-methods designs. A robust research strategy depends on the funding of a European CAM coordinating research office and of a European Centre for CAM to realize the CAMbrella research roadmap and enhance clinical knowledge. We are confident that the suggestions put forward in the roadmap can guide CAM research so that it will make a stronger contribution to the needs of the public, health care payers and health care providers in Europe.
Declarations
Acknowledgement
We gratefully acknowledge the valuable advice of Wayne Jonas, Hugh MacPherson, Charlotte Paterson and Harald Walach, who participated as CAM research experts at the workshop in Castellaro, Italy, September 7-9, 2011. We would also like to thank all members of the CAMbrella project who took part in the consensus process (Franziska Baumhöfener, Meike Dlahoba, Gabriella Hegyi, Johanna Hök, Jesper Madsen, Frauke Musial, Nina Nissen, Stephanie Regenfelder, Paolo Roberti di Sarsina, Koldo Santos Rey, Monika Schagerl, Sorin Ursoniu, Jorge Vas and Solveig Wiesener), as well as all contributing members of the Advisory Board (Marion Caspers-Merk, Seamus Connolly, Martin Frei-Erb, Stephen Gordon, Nand de Herdt, Nora Laubstein, Walburg Maric-Oehler and Peter Zimmermann).
Primary funding source
Grant of the FP 7 EU Funding Source, CAMbrella Project Grant Agreement No. 241951.
Authors' Affiliations
(1)
Institute for Social Medicine, Epidemiology, and Health Economics, Charité Universitätsmedizin, Berlin, Germany
(2)
Complementary and Integrated Medicine Research Unit, University of Southampton, Southampton, UK
(3)
Center for Integrative Medicine, School of Medicine, University of Maryland, Baltimore, USA
(4)
Institute of General Practice, Klinikum rechts der Isar, Technische Universität München, Munich, Germany
(5)
Institute of Complementary Medicine (KIKOM), University of Bern, Bern, Switzerland
(6)
Healthcare and Social Agency of Emilia Romagna Region, Bologna, Italy
(7)
Research Unit for Integrative Healthcare Research, Karolinska Institute, Stockholm, Sweden
(8)
I C – The Integrative Care Science Center, Järna, Sweden
(9)
National Research Center on Complementary and Alternative Medicine (NAFKAM), University of Tromsø, Tromsø, Norway
(10)
Institute of Public Health, Research Unit Health, Man and Society, University of Southern Denmark, Odense, Denmark
(11)
International Academy for Holistic Medicine, Vienna, Austria
(12)
Institute of Complementary Medicine, Department of Internal Medicine, University Hospital Zurich, Zurich, Switzerland
(13)
Competence Centre for Complementary Medicine and Naturopathy, Klinikum rechts der Isar, Technische Universität, Munich, Germany
Copyright
© Fischer et al.; licensee BioMed Central Ltd. 2014
This article is published under license to BioMed Central Ltd. This is an open access article distributed under the terms of the Creative Commons Attribution License (http://creativecommons.org/licenses/by/2.0), which permits unrestricted use, distribution, and reproduction in any medium, provided the original work is properly cited.