Research article
Open Access
Open Peer Review
This article has Open Peer Review reports available.
A novel systems pharmacology model for herbal medicine injection: a case using reduning injection
BMC Complementary and Alternative Medicine
The official journal of the International Society for Complementary Medicine Research (ISCMR)
2014
14:430
Received: 19 December 2013
Accepted: 9 October 2014
Published: 4 November 2014
Abstract
Background
Compared with the traditional oral administration form, injection administration is basically superior in terms of both biological availability and therapeutic effects. However, few researches have focused on the traditional Chinese medicinal injection due to the complicated constituents and the intricate mechanism of action.
Methods
In the present work, a novel systems pharmacology model, integrating ADME (absorption, distribution, metabolism, and excretion) filtering such as half-life evaluation, network targeting, pathway and systems analyses, is specifically developed for the identification of active compounds and the study of the mechanism of action of TCM injection, which is exemplified by Reduning injection confronting the influenza.
Results
The ADME filter successfully identifies 35 bioactive compounds (31 molecules and 4 metabolites) from the Reduning injection. The systems analysis and experimental validation further reveal a new way of confronting influenza disease of this injection: 1) stimulating the immunomodulatory agents for immune response activation, and 2) regulating the inflammatory agents for anti-inflammation.
Conclusions
The novel systems pharmacology method used in this study has the potential to advance the understanding of the molecular mechanisms of action of multicomponent herbal injections, and provide clues to discovering more effective drugs against complex diseases.
Keywords
Systems pharmacologyReduning injectionPolypharmacologyMechanism of action
Background
Traditional Chinese Medicine (TCM), a typical ethnomedicine derived from the practice of ancient Chinese herbal medicine through several thousand years of empirical testing and refinement, has been successfully used in taming various kinds of diseases [1]. The most common practice in TCM is the utilization of herbal combinations called formulae, which are capable of systematically controlling various complex diseases determined by synergistic effects among different herbs. As demonstrated in the clinical trials, the injection, also featured as "multiple components, multiple targets and complex diseases", is normally superior to the traditional oral administration form in the matter of both biological availability and therapeutic effects [2]. However, even though mixtures in herbal injection have been investigated through observation and experience over years, the mechanism of action is still unknown due to the insufficient modern scientific research [3]. Thus modern and technologic approaches are urgently needed for the study of TCM injections.
Fortunately, the advent of -omics technologies rapidly integrate the entirety of the human complement (such as genomics and metabonomics) to propose a new way of study TCM in the form of systems biology [4]. To conduct a systems-level analysis, a comprehensive analysis of the dynamic interactions between drug(s) and a biological system is required. Hence, bridging systems biology and pharmacokinetics-pharmacodynamics (PK/PD) has led to the emergence of systems pharmacology [5]. The term systems pharmacology describes a field of study that applies the systems biology and PK/PD to provide a quantitative frame-work for understanding the dynamic interplay among variables of complex biological systems through iteration between computational and/or mathematical modelling and experimentation [5, 6]. The application of systems pharmacology can impact across a wide range of drug research and development stages. In fact, systems pharmacology has been successfully applied to TCM for screening bioactive drug ingredients [7], predicting drug targets [8], understanding therapeutic mechanisms [9–11], revealing rules of drug combination [12], screening synergistic drug combinations [13], and so forth. However, an effective method which is specifically developed for the study of herbal injection is still lacking at the present time. Therefore, in this work, a novel systems pharmacology-based strategy is presented for the study of herbal injections. It is exemplified by a widely used TCM injection Reduning, which mainly treats influenza diseases including virus infection, fever, respiratory disease, inflammation, etc. [2, 14].
The whole system includes four steps: (1) components collection in Reduning injection; (2) ADME filter building and screening; (3) systems analysis for the action mechanisms of Reduning; and (4) the experimental verification. This work pays a great deal of attention to the ADME prediction in injection, encompassing results of permeability, cell uptake, blood–brain penetration, protein transporting and binding, metabolism of bioactive substances, and drug excretion. Furthermore, the application of this systems pharmacology model may reveal the power of the combined approach for screening bioactive compounds, predicting the mechanisms of action, and understanding the multicomponent therapeutic efficacy.
Methods
Chemical database for reduning injection
Reduning injection consists of three herbs including Artemisiae annuae L. (genus Artemisia, Asteraceae), Gardenia jasminoides J.Ellis (genus Gardenia, Rubiaceae) and Lonicera japonica Thunb. (genus Lonicera, Caprifoliaceae). In our previous work, 69 chemical constituents have been successfully isolated and identified as seen in Additional file 1: Table S1, including 15 iridoid compounds, 12 lignan compounds, 11 phenolic acid compounds, 10 flavonoids compounds, 10 caffeoylquinic acid derivatives, 5 sesquiterpenoid compounds, 3 coumarin compounds, etc. [15]. In addition, since the glycosyl groups of 17 compounds may be deglycosylated by the rule of glycosidase hydrolysis reaction, their aglycons labeled by _sg are also added, thus a total of 86 compounds are included in the present analysis (Additional file 1: Table S1).
Generation of ADME filters
To ensure a continuous pipeline of new drugs with reasonable PK, one pivotal activity is the evaluation of ADME parameters for a given compound. For this purpose, a novel systematic ADME prediction model is developed as seen in Figure
1
.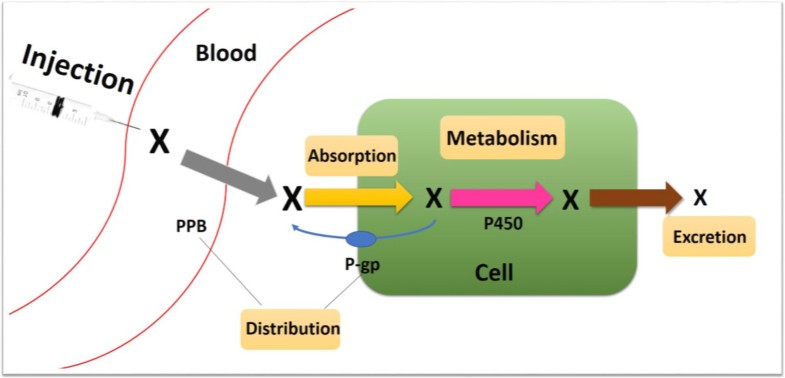 Tanimoto similarity (TS)
Drug-like compounds are those which 'contain functional groups and/or have physical properties consistent with the majority of known drugs' [
35
]. Hence, the Tanimoto coefficient [
36
] is used to remove compounds which are deemed to be chemically unsuitable for drugs, and the TS index is introduced to describe how herbal compounds are comparable to known drugs in Drugbank database. The TS index is defined as following:
where, x and y represent the structural feature vectors of two compounds, respectively. In this work, the TS ≥0.18 (average value of drugs in Drugbank) is defined to select drug-like compounds.
Drug targeting
Comprehensively determining compound-target interaction profiles is a critical step for elucidating the mechanisms of drug action [37]. To predict the target profiles of active herbal compounds accurately, an overall drug targeting strategy integrating our in silico prediction model, chemogenomics method and publicly database interrogation strategy is developed as following: (1) Our in silico prediction model efficiently integrates the chemical, genomic, and pharmacological information for drug targeting on a large scale, which based on two powerful methods: Random Forest (RF) and SVM [38]. In cases where drug targets are identified, proteins with an output expectation value: SVM >0.7 or RF >0.8 are listed as potential targets; (2) SEA search tool (SEArch, http://sea.bkslab.org/), the online search tool for the Similarity Ensemble Approach [39], where relates proteins based on the chemical similarity of their ligands. The final score is expressed as an expectation value (E-value), that is, the structural similarity of each drug to each target's ligand set; and (3) STITCH 4.0 (Search Tool for Interacting Chemicals, http://stitch.embl.de/), a combined data repository that captures the publicly available knowledge on chemical-protein interactions derived from experiments, expert-curated databases and literature by means of text mining [40].
Furthermore, the final obtained target proteins were applied as baits to fish their related diseases and pathways. The target-disease relationships were retrieved from the TTD database (Therapeutic Target Database, http://bidd.nus.edu.sg/group/cjttd/), and the US National Library's Medical Subject Headings (http://www.nlm.nih.gov/mesh), where the diseases can be classified into different groups. The target-pathway relationships were obtained from the KEGG database (Kyoto Encyclopedia of Genes and Genomes, http://www.genome.jp/kegg/).
Network generation and topological analysis
In systems pharmacology, network formed by nodes and edges (connections between nodes), is a mathematical, computable and quantifiable description of various relationships under the complex biological systems [41]. Network parameters, such as degree and betweenness - the basic network topological properties - can be utilized to describe the characterization of different drug treatments from a network perspective [42]. The degree of a node is the number of edges associated to it, and the betweenness of a node is the number of shortest communication paths between different pairs of nodes. The nodes with high centrality (degree and betweenness) can be considered the key nodes in a network [43]. The topological properties of these networks were analyzed using Network Analysis plugin and CentiScaPe 1.2 of Cytoscape [44].
Measurement of nitrite concentration for experimental validation
RAW 264.7 mouse macrophage-like cells were obtained from the Shanghai Institute of Cell Biology, Chinese Academy of Sciences (Shanghai, China) and maintained at 37°C in a 5% CO2. The medium used for routine subculture was DMEM (Gibco, USA) supplemented with 10% FBS (HyClone, USA). For experiments, the cells were plated at a density of 4 × 105 cells/ml into 96-well plates containing 100 ul medium. After 24 h incubation, the culture medium was replaced with fresh medium and the cells were treated with M38, M56 and M57 respectively at different concentrations for 2 h, followed by stimulation with LPS (Sigma, USA) 100 ng/ml for an additional 20 h. Then the level of NO production was monitored by Griess method and according to the indication on the NO assay kit (Beyotime Biotechnology, China).
Conclusion
Traditional Chinese Medicine (TCM), a comprehensive and abstruse ethnomedicine, has accumulated thousand years of clinical experiences, however, it lacks the systematical theory and scientific explanation. In this paper, we overcome these drawbacks above and successfully propose a systems pharmacology-based strategy to determine the material bases and the mechanisms of action of traditional Chinese medicinal injection by combining pharmacokinetics (PK) with network pharmacology. Exemplified by Reduning injection, a Chinese medicinal preparation consists of three herbs mainly treating influenza-related diseases, our main findings are:
1)

PK modelling, as one of the elements identifying the key properties of a drug, plays an increasingly important role in drug development combining with the druglikeness evaluation. In this work, the systems-based PK models successfully provide 35 candidates (31 molecules and 4 metabolites) for the material basis of Reduning injection. The most common ADME properties are simultaneously and firstly visualized as profiling filter for compound selection in TCM, elucidating the basic and complex trends for multiple properties across various functional groups in a systematic approach.

2)

The drug-target and target-disease networks demonstrate the therapeutic polypharmacology of TCM formula, i.e., treating complex diseases by targeting multiple targets with more than one drug in the herbal combination. The herbal medicines with multiple components offer a unique opportunity to explore multiple disease-causing mechanisms simultaneously.

3)

The pathway network provides the new way of confronting the influenza with immunomodulatory and anti-inflammatory agents, which may provide clues to making more effective therapeutics against influenza.
As illustrated by Reduning injection, this work demonstrates that the application of our systems pharmacology platform can not only recover the known knowledge of TCM but also provide new findings for uncovering the therapeutic mechanism of herbal injection. The major limitation of this approach is its direct demand for further experimental validation which will be resolved in our next work.
Abbreviations
TCM:

Traditional Chinese medicine
ADME:

Absorption, distribution, metabolism, and excretion
PK/PD:

Pharmacokinetics-pharmacodynamics
log P:

the partition coefficient P
P-gp:

P-glycoprotein
PPB:

Plasma-protein binding
SVM:

Support vector machine
CYP:

Cytochromes P450
t1/2 :

Half-life
C-PLS:

C-partial least square
TS:

Tanimoto similarity
RF:

Random forest.
Declarations
Acknowledgements
The research is supported by the Fund of Northwest A & F University and is financially supported by the National Natural Science Foundation of China (Grant No. 31170796 and 81373892), and the fund from the Jiangsu Kanion Parmaceutical Co.LtD.
Authors' Affiliations
(1)
Center of Bioinformatics, Northwest A & F University, Yangling, China
(2)
College of Life Sciences, Northwest A & F University, Yangling, China
(3)
College of Life Science, Northwest University, Xi'an, China
(4)
Jiangsu Kanion Parmaceutical Co.LtD, Lianyungang, China
(5)
State Key Laboratory of New-tech for Chinese Medicine Pharmaceutical Process, Lianyungang, China
(6)
Lab of Pharmaceutical Resource Discovery, Dalian Institute of Chemical Physics, Chinese Academy of Sciences, Dalian, China
Copyright
© Yang et al.; licensee BioMed Central Ltd. 2014
This article is published under license to BioMed Central Ltd. This is an Open Access article distributed under the terms of the Creative Commons Attribution License (http://creativecommons.org/licenses/by/2.0), which permits unrestricted use, distribution, and reproduction in any medium, provided the original work is properly credited. The Creative Commons Public Domain Dedication waiver (http://creativecommons.org/publicdomain/zero/1.0/) applies to the data made available in this article, unless otherwise stated.