Research article

Open Access

Open Peer Review
This article has Open Peer Review reports available.
Which tree orders in southern Africa have the highest antimicrobial activity and selectivity against bacterial and fungal pathogens of animals?
BMC Complementary and Alternative Medicine
The official journal of the International Society for Complementary Medicine Research (ISCMR)
2014
14:317
Received: 7 April 2014
Accepted: 5 August 2014
Published: 27 August 2014
Abstract
Background
The study randomly screened leaf extracts of several hundred southern African tree species against important microbial pathogens to determine which taxa have the highest activity and may yield useful products to treat infections in the animal health market.
Methods
We determined the antibacterial and antifungal activity of 714 acetone leaf extracts of 537 different tree species against Enterococcus faecalis, Staphylococcus aureus, Escherichia coli, Pseudomonas aeruginosa, Candida albicans and Cryptococcus neoformans. A sensitive serial dilution microplate method was used.
Results
Several extracts had MICs as low as 0.02 mg/ml. We analysed 14 out of the 38 tree orders where we determined the activity of more than 8 different tree species representing 89% of all species examined. There were statistically significant differences in some cases. Celastrales, Rosales and Myrtales had the highest activity against Gram-positive bacteria, the Myrtales and Fabales against the Gram-negative bacteria and the Malvales and Proteales against the fungi. Species present in the Asterales followed by the Gentiales and Lamiales had the lowest activities against all the microorganisms tested. Fabales species had the highest activities against all the microorganisms tested. There was substantial selectivity in some orders. Proteales species had very high activity against the fungi but very low activity against the bacteria. The species in the Celastrales and Rosales had very low antifungal activity, low activity against Gram-negative bacteria and very high activity against Gram-positive bacteria.
Conclusion
Against all classes of microorganisms, the four orders containing species with the highest average antimicrobial activities also contained several species with low activities against different pathogens and vice versa. These results therefore should be used with circumspection in selecting tree orders that would yield the highest probability of finding species with promising activities. Nevertheless there was a twofold increase in probability of finding extracts with interesting antifungal activity from orders with high mean activity than from orders with low mean activity. The probability increased to threefold and fivefold for Gram-positive and Gram-negative bacteria respectively.
Keywords
Tree SpeciesAntimicrobial ActivityMinimum Inhibitory ConcentrationLittle Square MeanHigh Antimicrobial Activity
Background
Infections are the world's leading cause of premature deaths, killing almost 50 000 people every day [1]. The pharmacological industry produces a large amount of antibiotics but the extensive and inappropriate use of antibacterial and antifungal agents led to a significant upsurge in resistance to these drugs [2, 3]. The treatment of bacterial and fungal pathogens that are drug-resistant is even more complicated in acquired immune deficiency syndrome (AIDS) patients [4]. These developments have increased the need to search for new antibacterial products with improved activity [5].
Plants produce a diverse range of bioactive molecules with a wide spectrum of activities, making them a rich source of different types of compounds that could be used as medicine [6, 7]. Throughout the world, plants are used to treat many illnesses, particularly infectious diseases, and were once used as the primary medicines all over the world [8, 9]. There has been growing world-wide interest in natural and traditional medicines as an alternative form to treat infectious diseases [8]. This is partially based on the widely held, but not necessarily correct assumption, that natural medicine is safer. The World Health Organisation (WHO) estimated that about 80% of the rural populations of the developing countries rely exclusively on plants to meet their health care needs [10]. Nevertheless, of all the c. 250 000 species of higher plants on earth, only a fraction has been examined for all aspects of their potential therapeutic medicinal value [11]. Furthermore, natural products and their derivatives (including those from microorganisms) represent more than 50% of all drugs in clinical use in the world [12]. The importance of natural products in drug discovery has been discussed in many scientific papers [13].
Southern Africa has a rich floral diversity comprising in the order of 10% of the world's plant diversity on less than 2.5% of Earth's land surface [14]. According to Goldblatt [15] about 80% of the plants in the Western Cape are endemic to this region. This diversity represents a very valuable resource for commercial development as well as basic scientific studies [16]. In South Africa in particular, many rural ethnic groups rely on traditional indigenous plant knowledge to treat various diseases in both humans and livestock [17, 18]. In the order of 15% of the 24 000 taxa recorded in southern Africa are used in traditional medicines [19, 20] and an estimated 500 plant species are traded in informal medicinal plant markets [21]. Traditional medicine remains more affordable than Western medicine and is also easily accessible by the poorer communities.
In recent years, the rate of information documented on the biological activity and chemistry of plants used in traditional medicine in southern Africa have increased [22] and several studies provided scientific support for the use of various African plants for treating infections and diseases [23]. Several southern African medicinal plants have been identified in the first African Herbal Pharmacopoeia [24].
Contrary to expectations, thousands of publications on antimicrobial activity of plant extracts have not led to the development of any new commercial antimicrobial compounds of significant importance world-wide [25]. Many large-scale screening programmes of the past failed to produce worthwhile plant-derived antimicrobial pharmaceutical products [5, 26]. Consequently, the major pharmaceutical companies have lost interest in screening higher plants for their biological potential [27].
Some reasons for the failure of these screening programmes could be:
Traditional healers typically use aqueous extracts of plants which, as stated above, generally have very low activities [28, 33]. Water does not extract the antimicrobial compounds that usually have an intermediate or non-polar character [29]. The activity of effective aqueous extracts used by traditional healers may be based on an indirect effect by stimulating the immune system of the host rather than killing the pathogens. Aqueous extracts of plants species used in ethnomedicine may therefore not have high direct antimicrobial activity and scientists may consequently have focussed on the wrong species.
Moreover, many scientists focussed on the isolation of compounds not recognising that phytomedicines contain a mixture of compounds that often acts synergistically [12]. In our experience antimicrobial compounds isolated from extracts never had the expected activity based on the activity of crude extracts and fractions [34]. This is probably because different plant metabolites may work in combination with other compounds to regulate microbial infections and may therefore not be effective alone [26].
For these reasons coupled with the large number of plant species that have not yet been examined for their antimicrobial activities and the urgent need to discover new antimicrobial agents, we decided to screen southern African plant species to identify promising antimicrobial plant extracts against six important pathogens as leads for further in-depth research. Such an approach has not been followed in southern Africa before, except partially in the work of Noristan Pharmaceuticals [35]. The methods they used to determine antimicrobial activity are now outdated, thereby rendering comparisons impossible. Our focus was to sample leaves of representatives of southern African tree genera and families for ease of collection and sustainable use in case exciting activities are found. We used a standardised method for analysing the antimicrobial activities. A wide-screening approach offered the potential to discover plants with antimicrobial activities that are available in rural areas but which are not used traditionally. It also reduced the administrative complications of investigating plants based on its use in traditional medicine due to the new legislation to prevent biopiracy and promote benefit sharing in South Africa [5].
This study was part of a preliminary extensive screening programme of the Phytomedicine Programme, Department Paraclinical Sciences, University of Pretoria. The main aim of the screening was to facilitate the discovery of tree leaf extracts with high activities that may yield useful products for the herbal medicine that can be used to combat microbial infections in animals and humans. Preliminary data obtained in this study provided material for several masters and doctorate projects for students. Patents have been filed on some of the results.
The secondary aim of the screening study was to compare the antimicrobial activities of several southern African tree species at two taxonomic levels: suprafamilial (order) and suprageneric (family) to investigate if some orders and families generally contained tree species with higher antimicrobial activities compared to other taxa. Further studies could then focus on related taxa in promising orders and families to facilitate and improve the selection process. This approach may facilitate and optimise the selection of tree species for the discovery of new antimicrobial plant extracts by saving time and cost.
Given that related taxa may contain similar or related pharmacologically active compounds and therefore similar bioactivity [36, 37], the correlation between taxonomy and antimicrobial activity was investigated. The rationale was that taxa with general high activity could offer more promising leads. If good correlations were found, it could lead to a better guided approach in selecting tree species from promising families for continuing studies rather than based on ethnopharmacology. This information could also be useful for related taxa of plants growing outside South Africa. A number of closely related taxa, assumed to contain related active compounds could then be screened.
In this paper we compare the antimicrobial activities of tree extracts at order level based on the average minimum inhibitory concentration (MIC) of all the species that we have analysed within each order. Since orders are more inclusive compared to families, the mean MIC's calculated for each of the orders should therefore be less affected by outliers. In addition, since the boundaries of orders are more accepted, a comparison at this level may reduce variation caused by changes in, or differences between classification systems. We also compared the antimicrobial activities of the species present in the four orders with the highest activities with the species present in the four orders with the lowest activities to determine the practical value of the differences between orders with high and low activity.
Results
Grouping and size scale of the orders
We analysed 537 tree species of southern Africa. Those species are distributed in 38 tree orders and the number of species per order ranged from 1 to 71. The orders with the largest number of tree species captured were Malpighiales (71 tree species), Sapindales (64 tree species), Gentianales (64 tree species) and Fabales (57 tree species). Twenty four of the 38 orders in the database were represented by eight or less species (Table 1).
Antibacterial activities of orders
The mean activities of the orders for which we examined less than nine tree species were not analysed statistically because of the small sampling number. Therefore, the mean antimicrobial activities of only the 14 orders of which we analysed nine or more species are presented in this paper. These 14 orders did however contain a majority (89%, 476 out of 537) of all the tree species we analysed.
The orders had different levels of activity against each of the pathogens. In the respective tables, mean MIC's against each of the pathogens as well as a mean MIC for each pathogen class were listed. The mean MIC against the pathogen class was used to compare the orders.
There is evidence for some selectivity of activities. Species in the Proteales had very high antifungal but very low antibacterial activities. The same situation was present to a lesser degree in the species in the Apiales and Magnoliales. Species from the Rosales, Celastrales and Myrtales had a higher antibacterial than antifungal activity. Species in the Celastrales appeared to have higher activities against Gram-positive than Gram-negative bacteria. These species also had very high activities against the Gram-positive bacteria but had the lowest activities against the fungal organisms.
Antimicrobial activities of tree species within orders with the highest and lowest mean antibacterial activities
It is important to determine how useful mean antimicrobial activities of species in different orders are to predict activities of other species in that order. To determine the practical value of the differences between orders with high and low activity we compared the antimicrobial activities of all the tree species present in the four orders with the highest mean activities with the antimicrobial activities of all the tree species in the four orders with the lowest mean antimicrobial activities against the Gram-positive bacteria, Gram-negative bacteria and the fungi respectively (Figure
1
).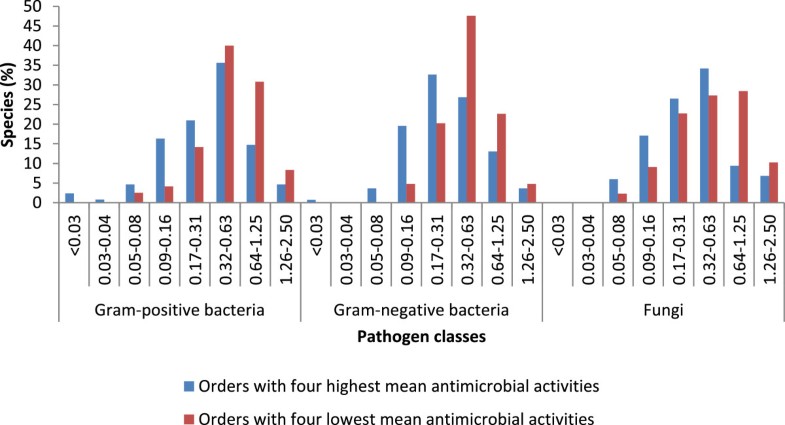 Several authors consider that only MIC values of 0.1 mg/ml and lower represents good activity [25, 30–32]. In our serial dilution range we had results for 0.16 and 0.08 mg/ml. To facilitate statistical analyses and comparisons we considered that an MIC of 0.16 and lower would represent interesting activities. Against all pathogen classes there were a distribution of activities with some species in the high mean activity orders having very low activities and some species in the low mean activity having good activities.Among the most promising orders against the Gram-positive bacteria, 24% of the species had interesting activities with mean MIC's of 0.16 mg/ml and lower compared to 7% of the species in the orders with the lowest mean activities (Figure 1). This may mean that there is a three times better probability of finding extracts with high activity against Gram-positive bacteria from a tree species included in the high activity order than from one of the low activity orders.Among the orders with the highest mean activities against the Gram-negative bacteria 24%, of the species had interesting activities (MIC ≤ 0.16 mg/ml) opposed to 5% of the species among the orders with the lowest mean activities (Figure 1). This may represent a fivefold higher probability of finding active extracts in these orders.Among the orders with the highest activities against the fungal organisms, 23% of the species had interesting activities with MIC's of 0.16 mg/ml and lower compared to 11% of the species in the orders with the least promising antifungal activities (Figure 1). This may represent a twofold higher probability of finding active extracts in these orders.
Conclusions
The results indicate that there is a correlation between the taxonomy at the order level and antimicrobial activity. Despite the very high variation in antimicrobial activities within orders there were statistically significant differences between orders of which we analysed more than eight species.
Because species in the promising orders have a higher probability of yielding extracts with an interesting antimicrobial activity these orders represents priority areas for further antimicrobial research. This could maximise the number of leads that are found in the screens in a shorter time than random collections.
Manuscripts are in preparation to compare the antimicrobial activities at family level which could lessen the intra-taxa variation because the groups are smaller as well as at genus level. In some cases we may be able to predict with a higher confidence which families or genera could facilitate the discovery of plant extracts that can be used to combat microbial infections in animals and humans [53].
To determine the potential value of extracts to control infections in humans and animals it is important that the cellular toxicity should be determined. An extract with a high selectivity index, i.e. a high safety and a lower antimicrobial activity would be preferential to an extract with high antimicrobial activity accompanied by a high cellular toxicity against mammalian cells. We are in the process of determining the cellular toxicity of extracts with high antimicrobial activity.
Declarations
Acknowledgements
The National Research Foundation (NRF) provided funding. The curators of the different botanical gardens of the South African National Biodiversity Institute (SANBI) and the University of Pretoria allowed us to collect plant material. Ms Rina Owen provided help with the statistical analyses. Prof Braam van Wyk, University of Pretoria provided valuable discussions on the plant taxonomic aspects. Prof Arnold Vlietinck, Antwerp, Belgium made excellent recommendations at the start of the NRF funded project.
Authors' Affiliations
(1)
Phytomedicine Programme, Department Paraclinical Sciences, Faculty Veterinary Science, University of Pretoria, Onderstepoort, South Africa
Copyright
© Pauw and Eloff; licensee BioMed Central Ltd. 2014
This article is published under license to BioMed Central Ltd. This is an Open Access article distributed under the terms of the Creative Commons Attribution License (http://creativecommons.org/licenses/by/4.0), which permits unrestricted use, distribution, and reproduction in any medium, provided the original work is properly credited. The Creative Commons Public Domain Dedication waiver (http://creativecommons.org/publicdomain/zero/1.0/) applies to the data made available in this article, unless otherwise stated.