Debate
Open Access
Open Peer Review
This article has Open Peer Review reports available.
A model for homeopathic remedy effects: low dose nanoparticles, allostatic cross-adaptation, and time-dependent sensitization in a complex adaptive system
BMC Complementary and Alternative Medicine
The official journal of the International Society for Complementary Medicine Research (ISCMR)
2012
12:191
Received: 29 April 2012
Accepted: 19 October 2012
Published: 22 October 2012
Abstract
Background
This paper proposes a novel model for homeopathic remedy action on living systems. Research indicates that homeopathic remedies (a) contain measurable source and silica nanoparticles heterogeneously dispersed in colloidal solution; (b) act by modulating biological function of the allostatic stress response network (c) evoke biphasic actions on living systems via organism-dependent adaptive and endogenously amplified effects; (d) improve systemic resilience.
Discussion
The proposed active components of homeopathic remedies are nanoparticles of source substance in water-based colloidal solution, not bulk-form drugs. Nanoparticles have unique biological and physico-chemical properties, including increased catalytic reactivity, protein and DNA adsorption, bioavailability, dose-sparing, electromagnetic, and quantum effects different from bulk-form materials. Trituration and/or liquid succussions during classical remedy preparation create "top-down" nanostructures. Plants can biosynthesize remedy-templated silica nanostructures. Nanoparticles stimulate hormesis, a beneficial low-dose adaptive response. Homeopathic remedies prescribed in low doses spaced intermittently over time act as biological signals that stimulate the organism's allostatic biological stress response network, evoking nonlinear modulatory, self-organizing change. Potential mechanisms include time-dependent sensitization (TDS), a type of adaptive plasticity/metaplasticity involving progressive amplification of host responses, which reverse direction and oscillate at physiological limits. To mobilize hormesis and TDS, the remedy must be appraised as a salient, but low level, novel threat, stressor, or homeostatic disruption for the whole organism. Silica nanoparticles adsorb remedy source and amplify effects. Properly-timed remedy dosing elicits disease-primed compensatory reversal in direction of maladaptive dynamics of the allostatic network, thus promoting resilience and recovery from disease.
Summary
Homeopathic remedies are proposed as source nanoparticles that mobilize hormesis and time-dependent sensitization via non-pharmacological effects on specific biological adaptive and amplification mechanisms. The nanoparticle nature of remedies would distinguish them from conventional bulk drugs in structure, morphology, and functional properties. Outcomes would depend upon the ability of the organism to respond to the remedy as a novel stressor or heterotypic biological threat, initiating reversals of cumulative, cross-adapted biological maladaptations underlying disease in the allostatic stress response network. Systemic resilience would improve. This model provides a foundation for theory-driven research on the role of nanomaterials in living systems, mechanisms of homeopathic remedy actions and translational uses in nanomedicine.
Keywords
HomeopathyNanoparticlesSilicaEpitaxyHormesisCross adaptationTime dependent sensitizationMetaplasticityAllostasisComplex adaptive systemStress response networkResilienceNanomedicine
Background
The purpose of this paper is to propose a model that explains how homeopathic remedies act on living systems (Figure
1
). Basic science research suggests that classically-prepared homeopathic remedies (A) contain measurable source nanoparticles (NPs) and/or silica nanoparticles with adsorbed source materials [
1
–
4
] which are heterogeneously dispersed in colloidal solution; (B) act by modulating biological function of the allostatic stress response network [
5
,
6
], including cytokines, oxidative stress and heat shock proteins [
7
,
8
], as well as immune, endocrine, metabolic, autonomic and central nervous system functions [
9
,
10
]; (C) evoke biphasic actions on the adaptive plasticity of living systems [
11
–
15
] via organism-dependent, endogenously amplified, rather than agent-dependent pharmacological, effects [
16
]. The effects of homeopathic remedy nanoparticles involve state- and time-dependent adaptive changes [
7
,
8
,
17
–
20
] within the complex adaptive organism [
19
–
22
]. The main clinical outcome is (D) improvement in systemic resilience to future environmental stressors and recovery back to normal healthy homeostatic functioning [
23
]. Disease resolves as an indirect result of changing the system dynamics that had supported its original emergence [
21
,
22
], rather than as a direct result of suppressing end organ symptoms.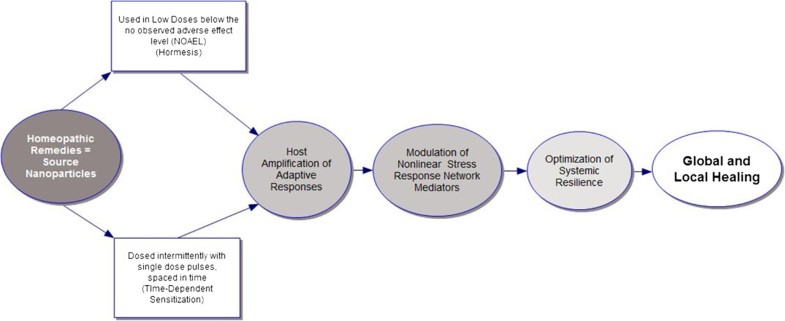 Other investigators have proposed a variety of theories for homeopathic remedy effects, e.g., persistent memory of unique water structures, water-ethanol clusters, epitaxy, and nanobubbles [24–32], glass-derived silica crystals and structures [4], electromagnetic activities [33], biological signaling [9], quantum macro entanglement [34, 35], nonlinear dynamics of complex systems [13, 19, 20], stressor effects and hormesis [36–38]. The current nanoparticle-cross adaptation-sensitization model incorporates and builds upon many conceptual points and empirical findings from this previous body of work, while offering an integrated, comprehensive synthesis for systematic testing [39].
Homeopathy is an over 200-year-old system of complementary and alternative medicine (CAM) developed by the German physician Samuel Hahnemann, MD. The field has a well-articulated practice theory [40], extensive case report-based clinical literature [41], high levels of patient satisfaction [42, 43], and a growing modern research base [44, 45]. Nonetheless, homeopathy has engendered some of the most intense skepticism within CAM, largely over the nature of its medicines ("remedies"). The classical process of manufacturing homeopathic medicines involves trituration in lactose and/or serial dilution in ethanol-water solutions and succussion (vigorous repeated cycles of shaking via hand or standardized mechanical arm pounding on a hard surface) in glass vials containing ethanol-water solutions [40]. Common dilution factors are 1 part source to 9 parts diluent (1/10, decimal, D or X potencies) and 1 part source to 99 parts diluent (1/100, centesimal or C potencies). Original bulk-form source materials are typically plant, mineral, or animal in nature.
Once dilution and trituration steps in lactose and/or succussions in liquid solvents begin, any low potency homeopathic remedy prepared above mother tinctures, i.e., 1X to 23X or 1C to 11C, should theoretically still contain bulk-form molecules of source material as well as source nanoparticles [3, 46]. In theory, repeated dilution steps leave progressively fewer and fewer molecules of bulk-form source material in a true solution, until eventually none should persist in solution diluted past Avogadro's number (6 x 1023), i.e., potencies higher than 24X or 12C. Ordinary clinical chemical assays can at best find relatively low numbers of bulk-form source molecules, for remedies at low potencies and none at higher potencies. As a result, conventional medical scientists and chemists reject the plausibility of homeopathy because of the presumptive lack of sufficient bulk-form source material to exert a "usual" pharmacological dose–response effect. In typical clinical pharmacology, lower bulk-form "doses" should exert lesser effects, until there are no biological effects at all.
These points are seemingly valid, if the underlying assumptions are valid – i.e., that homeopathic medicines are ordinary, dissolved and diluted bulk-form chemical drugs in true solution that could only act pharmacologically [47] with linear dose–response relationships. However, the trituration and succussion procedures in classical homeopathic remedy preparation may actually be crude manual methods that generate "top down" nanoparticles of source material. Nanoparticles range in size from 1 nanometer (nm) on a side up to 1000 nm or more, though much nanoscience research focuses on special acquired properties of small nanoparticles below 100 nm [48]. Trituration with mortar and pestle is a manual method for mechanical grinding or milling, similar to ball milling used in modern nanotechnology [49, 50]. Like modern nanotechnology methods of microfluidization [51, 52], sonication [53, 54], and vortexing [55], manual succussions introduce intense turbulence, particle collisions, and shear forces into solution that break off smaller and smaller particles of remedy source material as well as silica from the walls of the glass containers or vials [1]. The combined impact of these mechanical nanosizing procedures [54] would be to modify the properties of the remedy [26, 30, 32], generating remedy source nanoparticles [2, 3], as well as silica crystals and amorphous nanoparticles [3, 4, 32].
Persistent remedy source nanoparticles have been demonstrated with high resolution types of electron microscopy in metal and plant homeopathic remedies prepared both below and above Avogadro's number [2, 3]. Studies also report finding measurable amounts of nanosilica and its precursors in glassware-prepared remedies and other medicines [3, 4, 32, 56]. The types of glassware [56] (or polymer containers [1]), pH, temperature, amounts of agitation, and the ratio of ethanol to water solvent [57, 58] can further modify the specific sizes and properties of the resultant nanoparticles. Nanoparticles are different from bulk-form materials as a function of their small size, including acquired adsorptive [56, 59], electromagnetic, optical, thermal, and quantum properties [33, 48, 60, 61].
With their highly reactive and catalytic surfaces [48], NPs aggregate through self-assembly, and readily adsorb other nanoparticles and organic materials onto their surfaces, e.g., DNA, proteins, plant extracts or lactose [48, 60, 62–68]. In addition to mechanical attrition methods, multiple studies have demonstrated that plant mother tinctures can biosynthesize metal (silver or gold) or silica (silicon dioxide) nanoparticles and structures via natural phytochemical reactions in vitro[64, 69–72]. When plant herbal tinctures are used for biochemical synthesis of silver or gold metal nanoparticles from metal salt solutions, evidence indicates that the herb adsorbs onto the surfaces and modifies the sizes and properties of the resultant metal nanoparticles during this "green" manufacturing process [64, 69, 73]. The metal NPs then can convey plant-modified specific biological effects [64]. Such nanoparticles could augment and amplify the more direct, bulk herb-like properties for very low potency remedies made from ethanolic plant mother tinctures [46].
At higher liquid potencies, silica from the glass container walls released during succussions appears to be an important contributor to the generation of active homeopathic remedies [1, 3, 4, 32, 74]. Experimental data also show that nanosilica can self-assemble into 3-dimensional structures that can withstand drying, using DNA, proteins, or living cells as biological templates (a type of epitaxy) [71, 72, 75–78]. The interaction and adsorption of specific remedy source with lactose and/or silica in the lowest homeopathic potencies such as 1C or 1X and the next few very low potencies in glass vials containing ethanol-water solutions would create remedy-specific lactose- [79] and/or silica-adsorbed "nanoseeds" for generating subsequent potencies [3, 64].
Once formed at lower potencies, remedy NPs and remedy source-modified nanosilica [64, 67, 78] could be capable of seeding regrowth or self-assembly of pre-formed silica nanostructures at higher potencies [4, 32, 71, 80]. Nanotechnologists regularly use silica in bottom up self assembly of specific nanostructures based on DNA, proteins, or other materials as epitaxial structural templates [67, 77]. Any involvement of silica [3] or other nanostructures [32] would occur in addition to the demonstrated physical transfer of detectable remedy source nanoparticles themselves during the serial dilutions into higher potencies [2]. Nanosilica would serve as a non-specific biological amplifier [81, 82], if present [1], as well as a vehicle for additional remedy-specific structural and/or electromagnetic information.
For instance, one type of amorphous nanosilica can retain memory of an electric- or magnetic-field induced orientation [83]. Previous studies have shown that some homeopathically-prepared materials can emit detectable electromagnetic signals [33]. Such signals could, along with the adsorbed and perhaps encapsulated remedy nanomaterial structures [65] and epitaxial processes [3, 24, 64, 71], thereby convey remedy-specific information in these multiple ways. The information could derive from lasting alterations in the electrical conductivity of nanosilica and other nanostructures. The process might take advantage of silicon's semiconductor capabilities when "doped" with very small quantities of some inorganic or organic materials, i.e., from remedy source NPs in liquid potencies. However, since homeopathic remedies are often dried onto lactose pellets for storage and convenient transport, any model for homeopathy must also accommodate the need to retain the remedy-specific signal while dried and restore it upon clinical administration. Silica and protein nanostructures can survive drying [66, 77]. Lactose can absorb intact nanoparticles sprayed onto its surfaces [66].
Detection and study of these particles and proposed nanostructures present scientific challenges. Ordinary chemical assays and light microscopy cannot detect the nanoparticles, especially at higher potencies [84, 85]. Certain types of spectroscopy, e.g., Raman [24], but not always others, e.g., NMR [32, 86], can indirectly detect their presence in solution. Various physico-chemical methods can find indirect evidence from heat or light release by disrupting the dynamic structures that nanoparticles form in the solvent. High resolution imaging techniques [84, 87, 88], including atomic force microscopy, scanning electron microscopy, or transmission electron microscopy, can directly provide images of the actual presence of identifiable source nanoparticles in a given remedy [2, 3, 69]. Technological advances for characterizing single nanoparticles may also facilitate this type of research [88, 89]. With their increased bioavailability and reactivity, nanoparticles lower the doses of a drug, herb, nutriceutical, or antigen needed to produce clinical effects in medical applications, by orders of magnitude [63, 68, 90, 91].
Summary
In summary, the basic tenets of the model are [39]: Homeopathic remedies are remedy source nanoparticles and/or remedy-modified silica NPs that act as environmental stressors to mobilize hormesis and time-dependent sensitization via non-pharmacological effects on specific biological adaptive mechanisms. Both top-down mechanical attrition (trituration milling in lactose; succussion in glass with ethanol-water diluent) and plant-tincture biosynthesis methods generate the initial nanostructures. The nanoparticle nature of remedies distinguishes them from conventional bulk form drugs in structure, morphology, and functional properties. Furthermore, remedy source nanoparticles, especially in interaction with nanosilica, have the capacity to initiate bottom-up self-assembly of biomimetic nanostructures using crystalline or biological, e.g., DNA, proteins, collagen, templates [71, 76, 239]. Like a virus, albeit non-infectious, the homeopathic remedy thus becomes a salient low-level danger signal or threat to the survival of the organism.
The outcomes depend upon the ability of the organism to appraise the original high level stressors that caused disease and the subsequent low level remedy nanoparticles as novel and salient foreign stressors. Factors identified as biological threats will signal the need for time-dependent, sensitized compensatory adaptations (hormesis) in components of the allostatic stress response network.
The cumulative impact of allostatic overload from multiple different stressors led in the past to a pattern of specific dysfunctional adaptations in the stress response network underlying the emergence of disease [195, 240]. The cross-adapted/cross-sensitized homeopathic remedy nanoparticles take advantage of the priming effect of the prior high level stressors that originally caused the disease [10]. The remedy nanoparticles, as a low level stressor, then elicit reversal of direction in the pre-established, disease-related maladaptive patterns. The net outcome is improved resilience to stress, with restoration of normal homeostatic function, resolution of disease, and an emergent sense of global well-being.
Again, "stress" refers to biological, infectious, chemical, physical, electromagnetic, nutritional and/or psychological types of environmental stimuli that the organism recognizes as a novel threat to its survival, now or in the future. The high or low intensity of the stressor determines the direction of the adaptations it initiates [98, 187, 216], but it is the encroachment of the stressor on the organism that mobilizes plastic and metaplastic changes. In short, perceived or experienced novel threat is more important than dose level to trigger adaptive responses. Dose comes into play to modulate the direction of the responses via priming from past cellular activity history, e.g., metaplasticity, and current plasticity in the body's stress response pathways [181].
Within the organism as a complex adaptive system or network, causality for these events is indirect rather than direct, distant in time and space to the original administration of the homeopathic dose as a small but salient stimulus or stressor [241]. The organism carries forward the work of healing as a nonlinear, amplified dynamical adaptive response [21–23, 145]. It is because of the nature of classical homeopathic prescribing, i.e., selection of a single remedy administered intermittently, at widely-spaced intervals of time in pulsed acute dosing regimens that the treatment system is safe and beneficial.
Table
1
summarizes the parallels between key homeopathic clinical concepts and concepts found in the basic science literature on nanoparticles, hormesis, time-dependent sensitization, allostatic adaptation, and complex adaptive systems.
Table 1
Parallels between homeopathic and modern scientific research literatures
Homeopathic Literature

Relevant Modern Scientific Literature

Disease is the manifestation of "dynamic mistunement" of the living system (life force) [40]

Disease is the current manifestation of failure to adapt or compensate for allostatic overload from convergence of biological, chemical, physical, and psychological stressors on the nonlinear adaptive stress response network, which is embedded within the larger complex network of the overall organism [95, 144]

Homeopathic remedies are made with trituration and/or serial dilutions and succussions of source material, usually in glass containers, which generate nanoparticles of source and source adsorbed to silica nanoparticles in colloidal solution [1–3, 24, 64]

Nanoparticles can initiate hormetic low dose responses in the organism (adaptive or compensatory changes opposite in direction to the effects of the agent at higher doses) [16]

Remedies prepared and succussed in polypropylene or polyethylene vials could also have polymer-derived nanoparticles, but with different properties from those made in glass [1].

Nanoparticles have high surface to volume area and quantum-like properties. They differ from bulk source materials in exhibiting greater ability to translocate around the body and into cells, as well as increased catalytic activity, adsorptive capacity, and different electrical, magnetic, optical, and thermal properties from molecules of the "same" bulk material [33, 48, 53, 60].

Biological structures, e.g., DNA, proteins, or collagen, adsorbed to exogenous nanosilica and other specific nanoparticle structures, e.g., calcium phosphate or gold, serve as epitaxial templates for bottom up self assembly of new biomaterials [76, 239, 242]

Higher potencies (more dilution and succussion steps) have longer lasting effects on living systems [243] (succussion involves intense mechanical shaking of the solution by pounding the glass container against a hard elastic surface)

Succussion in glass containers releases variable amounts of silica as nanoparticles [4]; remedy samples prepared in glass vs polypropylene containers differ in physico-chemical properties [1]

Direction of effects of sequential remedy potencies can be nonlinear (oscillatory) in pattern [12]

Succussion, like modern microfluidization techniques [51], introduces cycles of fluid acceleration and turbulence with repeated changes in the direction of flow, producing the potential for particle collision and shear forces to break off smaller and smaller particles. These procedures, while different from each other and from sonication as a technique for agitating solutions and producing nanoparticles, share the ability to create nanobubbles and shear forces. Nanoparticle research suggests that there are nonlinear relationships between the number of microfluidization cycles or sonication time and variations in the sizes, morphologies, and physico-chemical properties of the "same" bulk-form material substance [52, 53, 244].

Such data suggest the hypothesis that different amounts and forces of succussion should also generate different sizes, morphologies, and physico-chemical properties of homeopathic remedy source and remedy-modified silica nanoparticles [64].

Silica [128, 245] and polystyrene [246] nanoparticles are used in conventional nanomedicine as drug/gene delivery vehicles

Direction of effects of sequential nanoparticle cluster sizes can be nonlinear (oscillatory) in pattern [48]

Pulsed dosing regimens of low doses (single or intermittent repetitions of remedy doses, widely spaced in time) exert persistent effects on physiology and behavior [13, 14, 154, 159, 243]

Low doses of nanoparticles can serve as highly reactive environmental stressors, not simply as pharmacological agents [187], for the organism to initiate allostatic adaptations over time. These endogenous changes compensate for and protect against other cross-adapted or cross-sensitized stressors (i.e., the adaptations already in place from the cumulative effects of disease-causing events on the same components of the stress response network) [5, 95].

Single or intermittent repetitions of low intensity levels of a foreign stressor or substance initiate a process of progressive endogenous response amplification over time (TDS, time-dependent sensitization) [98]

At the physiological limits of the system, the direction of sensitized responses become nonlinear (oscillatory) and reverse direction in pattern [7, 180, 181, 186]

In an intact person, patterning of remedy responses sometimes includes transient worsening (aggravations) and, when clinically successful, follows Hering's Law of Cure (center of gravity of disease moves from top to bottom of organism; from more important to less important organs; and in reverse order of occurrence in time) [238]

Central nervous system pathways are a major hub for regulating the allostatic stress response network of the body, interacting with hubs of the immune, endocrine, and autonomic nervous system to generate the overall global and local patterns of responses across the organism to any type of environmental stressor [6, 134].

However, homeopathic remedies can also exert measurable effects on living cells as complex adaptive systems or networks [7–9, 12, 108, 147, 173].

However, living cells are also complex adaptive networks unto themselves. As such, cell systems can self-reorganize their biochemical functional networks in response to a stressor such as heat shock without requiring the rest of a larger network or brain [93, 142].

Overcompensation of hormetic adaptations to a low level stressor can lead to salutary allostatic effects on the organism or complex adaptive network [247–249]

Human beings are complex adaptive systems that are self-organized, with interactive global and local patterns of adaptive behavior that modify each other's functional behaviors [21, 23, 94]
Conclusions
The proposed model suggests that homeopathy is not only scientifically "plausible," but also grounded in an extensive empirical research literature. Homeopathic remedies come into existence and exert their biological effects mainly as nanostructures. Physiology, not pharmacology, is the most relevant discipline for studying remedy nanoparticle actions (cf., [184, 187]). This paper insists on logic and rationality, as well as open-minded thoughtfulness, in evaluating the scientific implications of a large body of interdisciplinary evidence that health researchers might not otherwise assemble to understand homeopathic remedies. As empirical data arise, it is quite likely that new evidence will lead to modifications of the present theory; such is the nature of scientific inquiry. Nevertheless, this model provides a rational starting place for a comprehensive research program on homeopathic remedy actions. The resultant findings on what homeopathic remedies are (highly reactive nanoparticles) and how they interact with complex living systems (as pulsed, low level doses of a salient and novel environmental stressor) could significantly advance the field as a valuable form of nanomedicine.
Abbreviations
CAM:

Complementary and alternative medicine
CAS:

Complex adaptive system
FM:

Fibromyalgia
NM:

Nanometer
NP:

Nanoparticle
TDS:

Time-dependent sensitization.
Declarations
Acknowledgements
This work was supported in part by NIH/NCCAM grant T32 AT01287.
Authors' Affiliations
(1)
Department of Family and Community Medicine, University of Arizona College of Medicine, Tucson, USA
(2)
University of Arizona College of Nursing, Tucson, USA
Copyright
© Bell and Koithan; licensee BioMed Central Ltd. 2012
This article is published under license to BioMed Central Ltd. This is an Open Access article distributed under the terms of the Creative Commons Attribution License (http://creativecommons.org/licenses/by/2.0), which permits unrestricted use, distribution, and reproduction in any medium, provided the original work is properly cited.