Debate

Open Access

Open Peer Review
This article has Open Peer Review reports available.
An update on the strategies in multicomponent activity monitoring within the phytopharmaceutical field
BMC Complementary and Alternative Medicine
The official journal of the International Society for Complementary Medicine Research (ISCMR)
2012
12:18
Received: 22 September 2011
Accepted: 14 March 2012
Published: 14 March 2012
Abstract
Background
To-date modern drug research has focused on the discovery and synthesis of single active substances. However, multicomponent preparations are gaining increasing importance in the phytopharmaceutical field by demonstrating beneficial properties with respect to efficacy and toxicity.
Discussion
In contrast to single drug combinations, a botanical multicomponent therapeutic possesses a complex repertoire of chemicals that belong to a variety of substance classes. This may explain the frequently observed pleiotropic bioactivity spectra of these compounds, which may also suggest that they possess novel therapeutic opportunities. Interestingly, considerable bioactivity properties are exhibited not only by remedies that contain high doses of phytochemicals with prominent pharmaceutical efficacy, but also preparations that lack a sole active principle component. Despite that each individual substance within these multicomponents has a low molar fraction, the therapeutic activity of these substances is established via a potentialization of their effects through combined and simultaneous attacks on multiple molecular targets. Although beneficial properties may emerge from such a broad range of perturbations on cellular machinery, validation and/or prediction of their activity profiles is accompanied with a variety of difficulties in generic risk-benefit assessments. Thus, it is recommended that a comprehensive strategy is implemented to cover the entirety of multicomponent-multitarget effects, so as to address the limitations of conventional approaches.
Summary
An integration of standard toxicological methods with selected pathway-focused bioassays and unbiased data acquisition strategies (such as gene expression analysis) would be advantageous in building an interaction network model to consider all of the effects, whether they were intended or adverse reactions.
Keywords
Multicomponent
Multitarget
Effect potentialization
Microarray
Network
Background
Prior to the 20th century, medicine relied almost exclusively on the use of natural products or botanically-derived multicomponent therapeutics. Today, at least 25% of all pharmaceuticals are based on plant-derived products. However, although the very earliest pharmaceutical products were botanical and/or natural multicomponent preparations, by now mainly purely isolated monocompounds or synthetic analogues are commercialized as conventional drugs [1, 2]. The development of pharmaceutical and chemical technologies facilitated the economical production of semi-and fully-synthetic monocompound drugs, saving resources, including time, labor and delivery costs. Furthermore, characterization, standardization, and quality control of active ingredients became less difficult due to the absence of assay-interfering compounds in complex mixtures [3].
The shift towards the favoured use of monocompound drugs was supported by the finding that, in some plants, single components were the basis for efficacy. The isolation of these active substances enhanced their therapeutic effectiveness and allowed for dose assessments. For some time, the major demand of the pharmaceutical industry has become the discovery of a new drug entity that interacts with a single, well-defined molecular target, preferably without disturbing other cellular functions to avoid side effects [4]. Prominent druggable targets are, for instance, key molecules that are responsible for disease development and/or progression. Thus, drugs binding to such proteins should, in theory, lead to alterations or inhibition of their activities.
Hence, a general limitation of in silico drug-target interaction and activity modelling procedures is their inability to mimic entire cellular processes. Despite the use of sophisticated design strategies for selective drug ligands, in analogy to the "lock and key" concept, only a few of these monocompounds have been proven to be successful in vivo[5]. Interestingly, Roth, Hopkins and colleagues proposed that many modern anti-psychotic drugs failed in the clinic because they were too selective for their specific targets [4, 6]. Furthermore, an analysis of approved drugs indicates that the modulation of several molecular targets is a frequent mechanism behind drug efficacy [4].
An additional disadvantage of single drug therapies is the development of resistance phenomena, which may occur on a biochemical level, be acquired, and/or be established on a genetic level. Multidrug therapy has become especially important in the fight against infectious diseases. Several approaches used to evaluate the activities of antimicrobial drug and natural product combinations have been reviewed extensively [7]. Additionally, there have been reports on the reduction in the occurrence of resistance of antimicrobial strains to crude rather than single active compounds, e.g. from antimalarial drug research [7, 8].
Often, the aetiology of diseases that involve a polygenic background and environmental factors remains poorly understood. Consequently, this complicates the selection of proper drug targets in drug design. Additionally, it results in the simultaneous use of multiple drugs for the treatment of disease symptoms rather than origins, involving therapeutics that have not been developed or analyzed with respect to drug-drug interactions. The increasing demand for polypharmacology to enhance treatment efficacy via multitarget interventions is an attempt reflected e.g. by the search for synergistic combinations of single drugs, or by the selective design of non-selective, multi-target directed drugs or molecular entities containing two functionally distinct pharmacophores [4, 6, 9].
A strong interest in multicomponent phyto- or natural product preparations is likely to arise from the observation that some of these multi-substance mixtures possess prominent pharmacological properties at low or non-toxic concentrations. However, due to their complex chemical composition, an understanding of the underlying molecular activity mechanisms is, in most cases, only superficial. Thus, a detailed 'mechanisms of action' analysis is urgently required to unravel the potent activity of phytochemicals and botanical remedies, as well as to predict potential drug-drug interactions that may result from multidrug treatments.
A glossary of terms frequently used is provided in Table
1
.
| Active marker | Constituents of pharmaceutical relevance, which contribute to or influence the activity of extracts [10]. |
| --- | --- |
| Active substance/active pharmaceutical ingredient | Substances that exert a biological activity, which provoke a specific effect in a biological system. Active principles can exhibit activities comparable to that of synthetic active substances [10]. |
| Analytical marker | Chemically-defined substances used for quality control and standardization procedures, selected according to their analytical value without dependence on potential therapeutic activities [10]. |
| Botanical | One or more plants, a plant part, or an extract valued for its nutritional, medicinal, or therapeutic properties. Herbs are a subset of botanicals [11]. |
| Botanical drug | Highly, but not completely characterized, complex extracts from plants that are clinically evaluated for safety and efficacy. Often, there is also a history of safe traditional human use [2]. |
| Dietary supplement/functional food | Consist of components that are supplemented in the diet or thought to be healthy, such as vitamins, minerals, fats, botanicals, etc. [12]. |
| Interaction/joint action | Actions that describe an altered outcome arising from the presence of two or more compounds that could be antagonistic, additive, or synergistic [13]. Potentiation results from additive and synergistic interactions that intensify the potency of a bioactive product [2, 14]. |
| Multicomponent/complex interventions | Either a mixing of pharmaceuticals, an intended administration of a multicomponent combination of reference listed drugs, or the uptake of multicomponent preparations (e.g. botanicals, natural products or dietary supplements). Keith et al. defined multicomponent drugs as a therapeutic regimen that consists of a concerted pharmacological intervention of several compounds that interact with multiple targets [15]. |
| Natural product | All substances produced by living organisms, including microorganisms or fungi. |
| Nutraceutical(s) | Provide medical or health benefits, including the prevention and/or treatment of a disease, in addition to preventing nutritional deficiencies [12]. |
| Nutrigenomics | Studies the interaction between dietary components and/or nutrients and the genome by focusing on changes in transcript, protein and metabolite levels [16, 17]. |
| Pharmacogenomics | Combines conventional pharmaceutical and toxicology study designs with global genomics technologies and appropriate disease model systems to provide a comprehensive view on the response of the genome and the biochemical machinery of the cell upon treatment, and to identify efficacy and toxicity-related mechanisms [18, 19]. |
| Phytochemical(s) | Non-nutrient biologically active compounds in plants. A number of databases that e.g. contain information on chemical structure, metabolic pathways or health-related properties in humans have been only recently reviewed by Scalbert et al. [20]. |
| Secondary metabolite | Substances produced by plants or microorganisms that are not necessary for primary or energy metabolism, but are important for ecological fitness. Evolutionary pressure on biosynthetic pathways resulted in an inexhaustible chemical diversity of substances, and some of them have potent pharmaceutical properties [21]. |
The mechanism(s) of phytochemical action can either be direct or indirect
Most plant-derived bioactive substances are secondary metabolites. These compounds are produced as chemical signals in response to environmental changes or as defence mechanisms against pathogens, herbivores, and environmental stress factors. The most important structural classes of secondary metabolites are nitrogen-containing alkaloids, terpenoids, steroids, and phenolics (mostly phenylpropanoids) [3]. Although a few of these phytochemicals are now established as potent monosubstance drugs in modern medicine, most of them have not been structurally characterized and/or explored regarding their potential beneficial effects for human health.
In general, most monosubstance phytodrugs exhibit a rather specific mechanism of action. For instance, the cardiac glycosides from Digitalis spp. are able to inhibit membrane Na+/K+ ATPases. Conversely, according to Wink, the pharmacological activity of multicomponent mixtures cannot be assigned to a single substance, and the contained phytochemicals typically act in an unspecific and widespread manner [22]. Prominent bioactive components might be part of the preparation, but in some cases, there are no apparent single active components, which are detectable and responsible for the net effect. Interestingly, synthetically-developed multi-target drugs are also sometimes low affinity binders, since the multitude of low-affinity and/or transient interactions is sufficient to achieve a significant modification [23].
Multicomponent activity spectra result from the combined and simultaneous attack on various central cellular target structures. Examples of such non-specific targets are biomembranes, gene regulatory elements, and proteins. Proteins can be affected either by introducing covalent bindings, interfering through weak, but multiple non-covalent interactions, or the deposition of lipophilic compounds in hydrophobic regions of proteins e.g. within substrate binding pockets, which may cause loss of activity, total inhibition, or degradation. Furthermore, changes in the activity of signalling molecules or transcription factors can lead to an induction of transcriptional responses. Lipophilic and amphiphilic substances are poorly soluble in the cytosolic compartment, and have the tendency to accumulate spontaneously on biomembranes, where they can influence membrane fluidity and density. If nucleic acids are targeted, mutations can be initiated by the introduction of covalent modifications or through intercalation mechanisms [22].
Thus, despite a very low molar fraction and weak impact of individual phytochemicals in multicomponent mixtures, the summation of activities leads to a potentiation of effects, and promotes a prominent outcome. This mechanistic view also explains why in many cases, the fractionation or isolation of principal constituents from extracts ends up with a loss of previously detected activities [15].
Different types of joint actions contribute to the potentiation of effects
Compounds exert their bioactivities by interacting with other molecules rather than by acting alone. Numerous theories propose that the interplay and interference of single components in a mixture is the rationale for the advantageous effects of multicomponents. The basic concepts of joint actions and interactions can be summarized as three core processes: addition, synergism, and antagonism [13, 14, 24–26].
Additive interactions are based on either similar or dissimilar non-interactive effects of chemicals. The net response of a multicomponent may be attributed to the sum of the individual compound doses or effects. Similar actions preferentially occur with structurally-related substances, while dissimilar acting chemicals differ in their mechanism of action, but share the resulting effect [13]. In contrast to independent actions, synergistic and antagonistic processes require direct interactions. These interactions lead to an effect that is stronger, as expected based on the dose or response of each component. Antagonistic interactions result in an inhibition of effects, while synergistic interactions lead to effect potentiation. In both cases, the net effect exceeds the additive/subtractive effects of each component [13, 14]. Thus, using synergistically-acting compounds lowers the amount of potentially harmful chemicals necessary to achieve an optimal therapeutic efficacy. Furthermore, interactions between components within a single plant species (endointeractions), and interactions between components from different plants and/or non-plant based compounds (e.g. synthetic drugs), which may be ingested together (exointeractions), can be distinguished [27].
The concepts of joint actions are helpful in the understanding of basic processes. The effectiveness of joint actions may result from the local and spatial proximity of components at the target site of action, which only occurs if the substances possess similar absorption and circulation kinetics [13, 28]. Additionally, substances that interfere with general cellular mechanisms, such as oxidative stress or protein folding, can further interact in a time-independent manner with compounds that act on target molecules belonging to different pathways.
However, the response to substances of a highly interconnected biological system, such as the human organism, is very complex and rarely linear. There are a variety of factors that can influence the therapeutic efficacy of a substance, such as the effective intracellular concentration of compounds at the target cell or organ (e.g. bioavailability, bioconversion, pharmacokinetics), the chemical and physical microenvironment (e.g. polarity, viscosity) at the interaction site, the type of molecular target (e.g. single or multiple molecules, cellular structures), and the general health of the target cells.
Multicomponent interventions for multifactorial diseases
Many of today's illnesses are thought to result from environmental and lifestyle changes, which favour an undesirable functioning of biological systems that have evolved over an evolutionary time course [29]. These diseases are caused by multiple factors, unfold over an extended period of time, and demonstrate a wide range of pathophysiological manifestations.
One such example is atherosclerosis, a chronic inflammatory disease. Initial atherosclerotic events take place long before its clinical manifestations within the vascular system can be diagnosed [30, 31]. According to Ramsey et al, a more systems-based view on multifactorial disorders, where disease progression requires the coordination of several cell types, organs, and organ systems at various molecular levels, will contribute to a better understanding of disease aetiology [32]. Of note, treatment options for atherosclerosis-associated diseases, which are discussed extensively in scientific literature, also include the use of herbal extracts and mixtures that contain, among others, phenolic antioxidants, which serve as protective agents [33].
Also, several psychiatric and neurologic disorders are the result of multifactorial interactions between environmental influences and genetic mechanisms. A variety of modern central nervous system targeting monocompound drugs have been originally identified in psychoactive plants and natural products, which are components of many traditional medicinal systems [34]. As many traditional medicinal formulations are based on the combined and synergistic activities of several substances that enhance their pharmacological properties, investigations of the resulting mechanisms of action could help to uncover new medications for the treatment of diseases of the nervous system and mental illnesses. Furthermore, other factors, such as the general state of health or diet, should be considered [35]. For example, disorders accompanied with cellular immune activation such as infections, or persisting deficits in nutrition, may diminish serum tryptophan levels, which consequently results in the reduced production of serotonin and may affect serotonergic functions [35, 36].
Due to the broad range of activities possessed by multicomponents, there may be numerous promising candidate mixtures that achieve benefits in the treatment of such multifactorial diseases likely by shifting, rather than interrupting, cellular regulation towards a healthy level [37, 38]. The regulatory cellular and molecular mechanisms in an organism have to be organized by high interconnectivity to fulfil complex functions, such as signal sensing, transduction and processing, and thereby maintain systemic and cellular homeostasis. The sophisticated organization of intra-and intercellular communication facilitates an appropriate and flexible response to disturbances and provides control mechanisms through interlocking pathways, as well as feedback, regulatory, and fail-safe mechanisms [29]. While initial quick signalling is mediated generally through specialized sensory molecules or complexes, it is then followed by transcription regulatory events that lead to a prolonged reorganization of cellular status [39]. The cellular environment is subject to continuous and unpredictable changes. To deal with such changing conditions, biological systems require robustness, a ubiquitous property that allows cells to maintain their central functions in the face of external or internal perturbations [39, 40]. Several redundancies and compensatory mechanisms provide the system with sufficient flexibility in response to various stimuli, and support it to overcome even the most severe attacks without becoming fragile.
Systemic chronic diseases can be seen as a manifestation of co-opted robustness, in which normal physiological mechanisms are efficiently taken over to sustain and promote an epidemic, and potentially a more progressive disease status [40]. An optimal drug should render the system fragile by performing perturbations for which the system has not been optimized. Thus, the probability of a system breakdown should correlate with the number and diversity of the target-affecting agents applied [41–43].
Conclusion and perspectives
Every therapeutic intervention, either a mono- or multicomponent drug, results in changes of intra- and intercellular signalling events, and finally leads to pleiotropic effects that affect an organisms' homeostasis. In particular, concerning multicomponent activity monitoring, new concepts that overcome the limitations of conventional risk-benefit assessment strategies are urgently warranted.
Taking into consideration the main and adverse effects, a strategy that combines both selected pathway-or interaction-based bioassays and unbiased analysis of expression signatures, would be useful to fully assess the pharmacological properties of a multicomponent. As shown in Figure
2
, in general, some information on the proposed effects of a multicomponent is required to generate hypotheses and design preliminary experiments. This information can be either retrieved from traditional application areas or deduced from the multicomponent's ingredients. Consequently, more detailed dose-effect relationships can be further analysed via assays that focus on particular activities, and aid investigators in extracting the necessary parameters for assessing large-scale quantitative data. For instance, a respectable number of versatile and reliable bio- and reporter gene assays are available for elucidating the transcriptional activities of particular signalling pathways [
45
].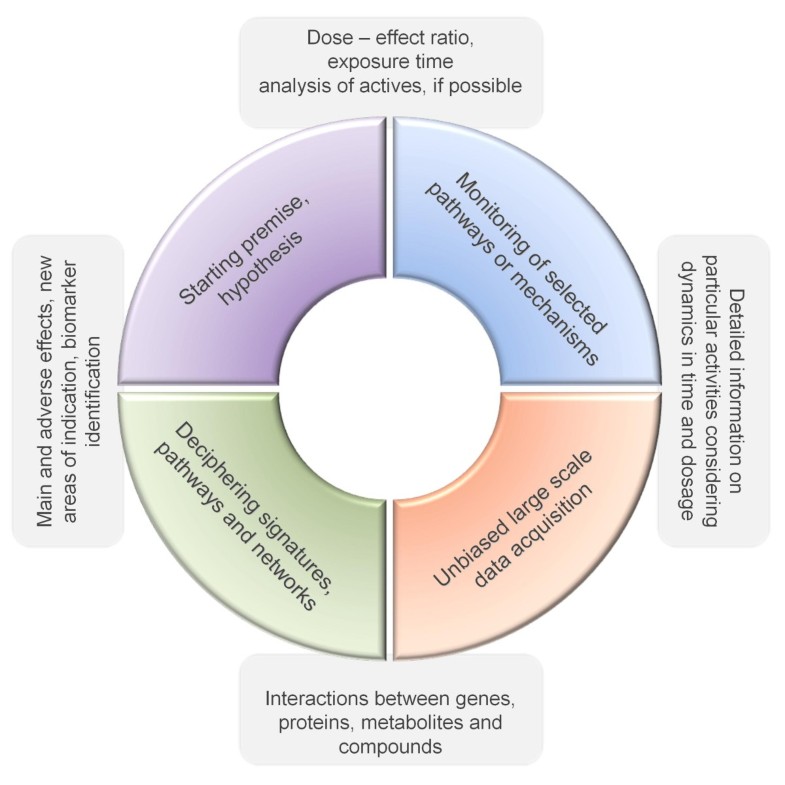 Unbiased large-scale data acquisition strategies give insight into transcriptomic, proteomic, and/or metabolomic alterations, which provide more information on all of the activated molecular processes in a system. The integration of such datasets with comprehensive knowledge bases containing direct and indirect molecular interactions aids in deciphering the most prominent modulated pathways. Furthermore, network analysis is a useful tool for reorganizing a vast collection of data in a way that affected functional modules in a cellular network and biological information flow throughout the system can be visualized. Also, key molecules or potential biomarkers can be identified within a network. Finally, the evaluation of omic data may refine the experimental model in order to make better predictions, which will then be tested with new experiments [72]. Hence, the extraction of valuable information from large datasets for multicomponent activity assessments requires an iterative approach.
Aside from deciphering the main mechanisms of action, if some of its components interfere with unexpected processes, side effects of the remedy can be also detected. Furthermore, low dose extrapolations are supported and additional therapeutic opportunities or effects specific to certain populations may be uncovered [15, 18, 29]. To-date, transcriptional profiling is the most frequently used large-scale data acquisition methodology in clinical research. Currently, microarray technology is less expensive and even more developed, in comparison to other techniques applied in proteomic and metabolomic research. However, it should be kept in mind that mRNA levels detected on microarrays are steady-state abundance levels, which also depend on transcription and degradation rates [69]. Furthermore, direct and indirect effects cannot be distinguished, and in some cases, these discrepancies may interfere with the deduced biological information.
To avoid pitfalls in applying omics approaches to multicomponent activity analysis, for example, by generating datasets that are too large to deal with or by choosing inadequate parameters, a rigorous experimental design is necessary. The application of fractional factorial designs and statistical methods, which consider the need for replicating experiments and resources, may reduce experimental efforts [40, 73, 74]. However, there is still need for improvements in experimental design that capture the multivariate nature inherent to biological regulatory networks. At the moment, this can be addressed only through the use of predictive mathematical models [75].
Thus, the application of large-scale data acquisition technologies is limited, as they consume more time and financial resources in comparison to biased assays. In addition, even the largest experimental setup would not provide sufficient information to construct a fully detailed mathematical model with high statistical confidence. Consequently, data interpretation is not always straightforward and conclusive [51]. However, global systemic approaches are highly recommended to generate new hypotheses, and assist in the selection of potential biomarkers and additional focused analysis strategies.
Selecting an appropriate cellular model system may also have a great impact on the results. For example, primary materials, such as donor blood cells, may provide a more in vivo-like situation regarding sensitivity and behaviour than artificially immortalized cell lines. Additionally, models that mimic a particular disease, either via a genetic or chemically-induced manipulation, could provide more relevant information on a specific question. However, cellular model systems are limited in that they cannot truly imitate an entire organism, where the response to external stimuli is regulated on several hierarchical levels (e.g. sensory organs, nervous signal transduction system, organ systems, tissue, etc.). Thus, knowledge regarding cellular targets, as well as their robustness and fragility in disease onset and progression, remains a fundamental factor that determines also the success of new system-based strategies [28].
It should be noted that also nutritional sciences benefit from multimixture analysis approaches. Metabolic pathways and homeostasis are disturbed in many diet-related diseases [13]. Additionally, beneficial drug-food interactions may contribute to the therapeutic successes of drugs not only by improving the patient's general condition, but also by reducing side-effects [76].
Omics technologies for multicomponent activity assessments cannot only be applied for endpoint analysis in mammalian systems, but can also be useful in plant phenotyping and extract standardization. In addition to improving phytochemical identification by coupling bioassays to fractionation steps, metabolomic methods are being more and more applied, as they allow for the study of thousands of secondary metabolites in a complex mixture, without the need for isolating active principles. The chemical profile of a preparation can then be linked to observations obtained through biological testing systems [77].
Hence, the combination of both biased and non-biased assays appears to be the most promising strategy for not only risk-benefit assessments, but also drug design, identifying drug targets, and biomarkers. This concept may aid in deciphering condition-specific regulations of a system in response to a dynamic environment, as well as contribute to the general understanding of the interactions between genes, proteins, metabolites, nutrients, drugs, and environmental factors in healthy and diseased states.
Declarations
Acknowledgements
This work was supported by a grant from the Austrian Research Promotion Agency (FFG, project number 818111). The content of this article does not necessarily reflect the views or policies of the funding sources.
Authors' Affiliations
(1)
Division of Medical Biochemistry, Biocenter, Innsbruck Medical University, Innsbruck, Austria
(2)
Division of Biological Chemistry, Biocenter, Innsbruck Medical University, Innsbruck, Austria
Copyright
© Gostner et al; licensee BioMed Central Ltd. 2012
This article is published under license to BioMed Central Ltd. This is an Open Access article distributed under the terms of the Creative Commons Attribution License (http://creativecommons.org/licenses/by/2.0), which permits unrestricted use, distribution, and reproduction in any medium, provided the original work is properly cited.