Research article

Open Access

Open Peer Review
This article has Open Peer Review reports available.
Effects of music therapy in the treatment of children with delayed speech development - results of a pilot study
BMC Complementary and Alternative Medicine
The official journal of the International Society for Complementary Medicine Research (ISCMR)
2010
10:39
Received: 7 October 2009
Accepted: 21 July 2010
Published: 21 July 2010
Abstract
Background
Language development is one of the most significant processes of early childhood development. Children with delayed speech development are more at risk of acquiring other cognitive, social-emotional, and school-related problems. Music therapy appears to facilitate speech development in children, even within a short period of time. The aim of this pilot study is to explore the effects of music therapy in children with delayed speech development.
Methods
A total of 18 children aged 3.5 to 6 years with delayed speech development took part in this observational study in which music therapy and no treatment were compared to demonstrate effectiveness. Individual music therapy was provided on an outpatient basis. An ABAB reversal design with alternations between music therapy and no treatment with an interval of approximately eight weeks between the blocks was chosen. Before and after each study period, a speech development test, a non-verbal intelligence test for children, and music therapy assessment scales were used to evaluate the speech development of the children.
Results
Compared to the baseline, we found a positive development in the study group after receiving music therapy. Both phonological capacity and the children's understanding of speech increased under treatment, as well as their cognitive structures, action patterns, and level of intelligence. Throughout the study period, developmental age converged with their biological age. Ratings according to the Nordoff-Robbins scales showed clinically significant changes in the children, namely in the areas of client-therapist relationship and communication.
Conclusions
This study suggests that music therapy may have a measurable effect on the speech development of children through the treatment's interactions with fundamental aspects of speech development, including the ability to form and maintain relationships and prosodic abilities. Thus, music therapy may provide a basic and supportive therapy for children with delayed speech development. Further studies should be conducted to investigate the mechanisms of these interactions in greater depth.
Trial registration
The trial is registered in the German clinical trials register; Trial-No.: DRKS00000343
Keywords
Cognitive StructureMusic TherapySpeech DevelopmentMusic TherapistGerman Clinical Trial Register
Background
Music therapy is an established form of creative art therapy. By using music as a specific medium of communication and expression and adapting it to the individual resources and abilities of the patient, music therapy can be beneficial in activating and supporting mental and psycho-physical recovery. Several systematic reviews have shown the effects of music therapy in different clinical and therapeutic settings, such as for the treatment of psychiatric diseases like schizophrenia or schizophrenia-like illnesses [1], psychosis [2], neurological diseases like multiple sclerosis [3], dementia [4], or for the treatment of anxiety and pain [5].
In addition to these therapeutic fields, music therapy can also be applied in the treatment of developmentally delayed children. Already in 1995, Aldridge et al. illustrated the use of music therapy in children with developmental delay [6]. In another study, Duffy and Fuller (2001) found that an 8-week music therapy intervention in social skills development in moderately disabled children resulted in an increment in terms of turn-taking, imitation, and vocalization [7]. Perry (2003) found direct relationships between the level of communication skills and elements of musical interaction in children with severe and multiple disabilities [8]. Finally, Kim et al. (2008) demonstrated the effects of music therapy on joint attention behaviours in preschool children with autism in a randomized controlled study [9].
Developmental delay often accompanies delayed speech development. Speech development is an important predictor for later problems, such issues with reading and spelling, among other learning difficulties. Gallagher [10] found that "studies of children with language impairment have reported emotional and behavioural problems in 50-75% of that population". According to Sallat [11], different authors describe children with delayed speech development as being highly at risk of other cognitive, social-emotional, and school-related problems.
However, definitions of speech development disorders still differ greatly and data on the prevalence of delayed speech development actually range from 4 to 40% [12]. Grimm et al. [13] detected substantial speech development disorders in 10% of children between the ages of 4 and 5 in Bielefeld, Germany, and suspected speech development disorders in 20%. General textbooks quote the epidemiology of specific speech development disorders as being between 3 and 5%; however, this is without a traceable background [14]. According to a study in Bavaria, 22.5% of tested children showed at least one problem in various tested areas that required speech therapy [15].
Although there are considerable epidemiological variations due to the definition of developmental speech delay, its prevention is a challenging social issue. In this respect, it is of vital importance to apply therapies that are able to support the salutogenetic capacities of the child with the aim of enhancing his or her speech development as early as possible.
According to findings of Aldridge [6] and Schumacher [16], music therapy is an approach that may facilitate significant advances in speech development and communication skills, particularly in children with autism. Additionally, Lathan-Radocy [17] described different ways and methods of working with speech and language impaired children by engaging them in music therapy. Finally, several case studies found positive effects of music therapy on speech development in children [18–20].
Based on these findings, this study aims at examining the effectiveness of music therapy on a child's verbal reasoning abilities. Furthermore, we wanted to investigate whether experiencing musical structures, such as rhythm or strophic forms, and improvising with a music therapist could stimulate a child's ability to understand sentences, as well as encourage his or her interest in communicating with others.
Methods
Study design
This observational pilot study was conducted in the Department of Music Therapy at Herdecke Community Hospital between 2006 and 2008. We chose an ABAB reversal design with alternations between music therapy and no treatment with an interval of approximately eight weeks between the blocks. Before and after the music therapy blocks, a speech therapist and a psychologist, who were both blinded to the conditions and timing, tested the children using validated speech and nonverbal developmental tests. The study was approved and accepted by the ethics commission at the University Witten/Herdecke (application number: 115/2006) and is registered in the German clinical trials register (Trial-No.: DRKS00000343; http://www.drks.de).
Participants and inclusion criteria
All children were recruited via announcements in integrative and regular nursery schools. Parents contacted the music therapy department at the hospital by phone and after the first selection, 39 children aged 3.5 to 6 years, all with German as their native language, were eligible to participate in the study. Participants had to pass a medical examination and take a speech test to check whether they had a specific developmental speech disorder (ICD-10-Codes: F80.1, F80.2, F83). They also had to score below 50 out of 100 points in the phonological short-term memory test for non-words (German: PGN) and in one other subscale of the applied speech test SETK 3-5 (see "Test instruments" section for a detailed description). Children diagnosed with autism or muteness and/or a speech development disorder due to any organic causes (e.g. deafness) were excluded, as well as those children who had previous experience with music therapy.
As a result, a total of 18 children (6 girls; mean age: 4.3 ± 0.5 years) were selected to participate in the study (see Figure
1
for the consort diagram of the study). None of the participants were physically disabled and all were able to move and act independently.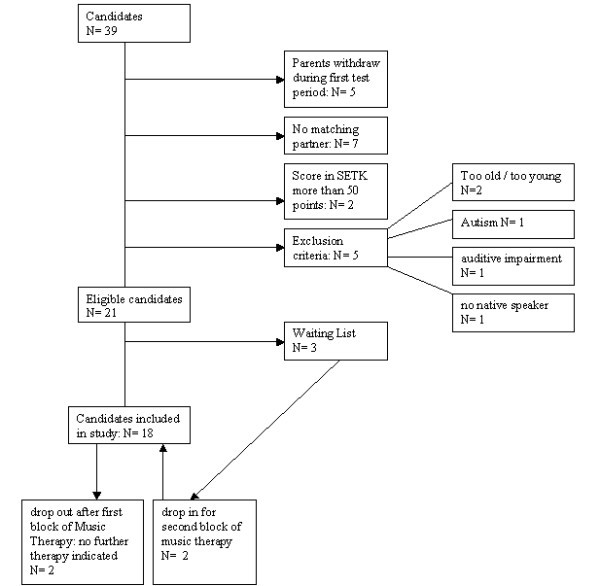 Parents or guardians provided written informed consent for their child's participation in the study before enrolment of the study. This included a discussion of the music therapist on the nature and purpose of the proposed music therapy treatment and its potential risks and benefits. Parents were also given the opportunity to ask questions to elicit a better understanding of the music therapy treatment. Accompanying therapies, like speech therapy and early intervention programs, continued uninterrupted due to ethical considerations.
Setting
Children received music therapy on an out-patient basis at the Department of Music Therapy at Herdecke Community Hospital. The participants were brought to music therapy sessions by their parents, but entered the music therapy room alone when possible. Single therapy sessions had a mean duration of 25 minutes and were provided by a therapist and co-therapist together. To meet the quality criteria of the hospital, the two music therapists had to have a master's degree in music therapy and sufficient clinical experience (a minimum of two years) in their field.
Music therapy
This study applied the concept of creative music therapy based on the Nordoff-Robbins approach [18]. Both patient and therapist were active in singing and making music with percussion instruments (i.e. bells, drums, pentatonic tone bars, shakers, reed horns, and lyres) and a piano. Songs specifically composed for playtime and that dealt with the child's interests, such as hide-and-seek songs or songs about animals, completed the therapeutic spectrum. Individual themes and musical developments thus emerged for each individual child; some wanted to sing and dance, others wanted to be sung to, and some wanted to play an instrument on their own. According to this individualized approach, the improvised music was oriented at the musical and vocal expressions of the child and therefore played the central role of the therapy.
Test instruments
SETK 3-5
The speech development test for children aged three to five years (SETK 3-5) is the first standardized German language test to examine speech abilities in children of this age group with an immediate correlation between linguistic and auditory memory performance. With Cronbach's alpha values between 0.62 and 0.89 and an inter-rater reliability of 90.1%, the test yields a "reliable and valid description of receptive and productive speech abilities in children" [
21
] and covers three areas of speech development, divided into three categories with five subtests:
1.

Children's understanding of speech (subtest "understanding sentences"; abbrev.: VS)

2.

Speech production (subtest "generation of morphological rules"; abbrev.: MR)

3.

Memory of speech, with a focus on abilities of speech processing, not on qualities of pronunciation (subtest "phonological memory for non-words"; abbrev.: PGN; subtest "memory for sentences"; abbrev.: SG, and subtest "memory for word sequences"; abbrev.: GW)
SON-R
The SON-R 2 1/2 - 7 is an individual intelligence test which does not require the use of spoken or written language [22]. It is especially suited for children with problems in the area of language and verbal communication and is comprised of six subtests of about 15 items that address the dimensions activity patterns and cognitive structures.
Activity patterns include the scales "categories (abstract thinking, organizing principles)", "analogies (abstract thinking)" and "situations (concrete thinking)". The scales "mosaics (spatial comprehension)", "puzzles (concrete thinking)", and "drawing structures (spatial comprehension)" represent the dimensions of the child's mental structure. Norm tables for monthly age groups enable the transformation of raw subtest scores into normalized standard scores. The total test results are represented as IQ scores and reference ages. IQ scores between 89 and 110 are average, 79 to 88 are below average, 68 to 78 are borderline, and IQ values below 67 indicate an intellectual deficit.
With a Cronbach's alpha value of 0.90 and a test-retest reliability of r = 0.79 for the overall IQ score, the reliability of the test is sufficient.
All psychometric tests were conducted by speech therapists and a psychologist blinded to the conditions and timing.
Music therapy assessment scales
All sessions were videotaped for analysis and consecutively assessed in detail after each session independently by the therapist and co-therapist. Nordoff-Robbins assessment scales were used to evaluate developments in music therapy for the first and last session of each music therapy block respectively. Scale I assessed the "child-therapist relationship in musical activity" (CTR) and Scale II assessed "musical communicative ability" (MCA); both were measured on a 10-point scale where 0 denotes lowest values and 10 denotes highest values in the respective categories. Inter-rater reliability values showed high agreement rates within the range of one point of 82% in Nordoff-Robbins therapists ratings [18].
Statistical analysis
Data were analyzed using intention-to-treat analysis (ITT). Missing values were imputed using the method of last observation carried forward with the following rules: a missing value before a block of music therapy or no treatment was replaced with the corresponding pre-session value. A missing value after a session was replaced with the according pre-session value.
The Friedman test was used to analyze the effect of music therapy over the course of time and the Wilcoxon rank-sum test was used for baseline comparisons (T0) and final measurements after the last therapeutic session (T4). We judged p £ 0.05 as significant and p between 0.05 and 0.1 as a trend. To quantify the outcome we also calculated effect sizes for all scales between T0 and T4. According to Cohen [23], effect size values between 0.2 and 0.5 are indicative of a small effect; values between 0.5 and 0.8 denote a medium effect and values greater than 0.8 indicate a large effect size.
Results
SETK
Mean SETK scores yielded the following results: "phonological memory for non-words" (PGN) and "understanding sentences" (VS) revealed distinct upward trends, whereby increases were more pronounced during periods with music therapy. These two parameters showed mostly parallel development. These two subtests PGN and VS showed a particularly steeper increase after music therapy blocks (T0-T1/T2-T3) compared to waiting periods (T1-T2/T3-T4). "Memory for sentences" (SG) also improved distinctively, starting from a very low level. A second boost was registered after the second waiting period (see Table
1
).
Table 1
Changes in the course of time and overall effect sizes in SETK subscales and SON-R outcome measures
| | T0Mean ± Sd | T1Mean ± Sd | T2Mean ± Sd | T3Mean ± Sd | T4Mean ± Sd | Fried-man-Test | Wilcoxon-Test (T1-T4) | Effectsize(T1-T4) |
| --- | --- | --- | --- | --- | --- | --- | --- | --- |
| SETK | | | | | | | | |
| PGN | 37.4 ± 10.2 | 40.0 ± 11.0 | 41.5 ± 14.4 | 44.7 ± 16.3 | 47.0 ± 14.5 | <0.0005 | 0.002 | 0.45 |
| VS | 37.4 ± 9.37 | 41.9 ± 12.7 | 43.7 ± 15.4 | 47.0 ± 16.3 | 48.2 ± 16.1 | 0.001 | 0.001 | 0.39 |
| SG | 30.4 ± 11.4 | 36.9 ± 12.4 | 35.2 ± 14.3 | 36.9 ± 13.5 | 39.9 ± 22.1 | 0.076 | 0.028 | 0.61 |
| MR | 40.8 ± 12.6 | 42.6 ± 10.7 | 41.6 ± 15.2 | 47.9 ± 17.6 | 46.9 ± 16.5 | 0.116 | 0.054 | 0.19 |
| GW | 3.0 ± 0.7 | 2.9 ± 1.3 | 3.1 ± 1.2 | 3.1 ± 1.1 | 3.2 ± 1.1 | 0.077 | 0.480 | 0.03 |
| SON-R (ref-age) | | | | | | | | |
| HS | 3.2 ± 1.0 | 3.6 ± 1.0 | 4.0 ± 1.0 | 4.0 ± 1.2 | 4.2 ± 1.2 | <0.0005 | <0.0005 | 0.61 |
| DS | 3.5 ± 1.2 | 3.8 ± 1.3 | 4.0 ± 1.0 | 4.3 ± 1.2 | 4.3 ± 1.3 | <0.0005 | 0.002 | 0.31 |
| IQ | 3.3 ± 1.1 | 3.7 ± 1.1 | 3.9 ± 1.0 | 4.1 ± 1.2 | 4.3 ± 1.3 | <0.0005 | <0.0005 | 0.57 |
"Generation of morphological rules" (MR) also increased after music therapy blocks while decreasing during waiting periods. "Memory for word sequences" (GW) was the hardest factor to assess. It was measured in different units compared to the rest of the parameters and in addition it is only measured in children aged four and older, so that the number of test results gained in this instance is far smaller. All general developments (T0-T4) for the five subtests of the speech test SETK revealed a definite increase. Over the entire study period (T0-T4), parameters PGN and VS showed statistically significant results (p < 0.001), which suggest that music therapy may have an effect on the development of phonological memory and understanding sentences. Phonological memory (PGN) indicated statistically significant results during the first waiting period (T1-T2 p = 0,008) and also after the second block of music therapy (T2-T3 p = 0,001; see Table 1).
SON-R
The three parameters of SON-R (cognitive structures (DS), action patterns (HS), and IQ increased significantly in the study course (DS p = 0,001; HS p < 0,001; IQ p < 0,001). The parameter of cognitive structures (DS) showed higher mean scores compared to activity patterns (HS) at time T0. It is interesting to note that DS and HS differed by several points at first (T0, T1) but later converged after the first interval (T2) to almost identical levels. The scores diverged again after the second music therapy intervention (T3), although this time on a higher level. The scores finally converged after the second interval (T4) (see Table 1).
Difference between age and biological age
Analysis of reference age revealed that the developmental age of the children in the course of music therapy interventions converged more and more towards their biological age. The difference was reduced from approximately one year at baseline to seven months at the end of therapy. Moreover, the variance in their developmental age increased meaning that some of the children corresponded with their biological age at the end of the study, while other children demonstrated a development approaching their biological age. The complete development over the course of time is shown in Figure
2
.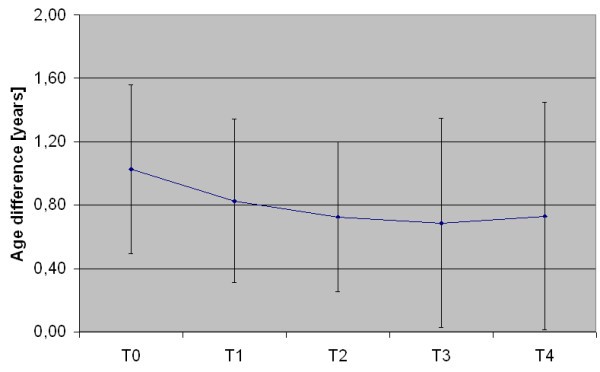 Nordoff-Robbins Scales
Ratings according to the Nordoff-Robbins scales showed distinctly significant changes. Both parameters CTR for child-therapist relation and MCA for musical communicative ability increased after the first music therapy block (T2), then subsequently decreased (T3), and then finally reached the previously achieved higher level after the second music therapy block (T4). MCA showed a slightly higher increase (Figure
3
).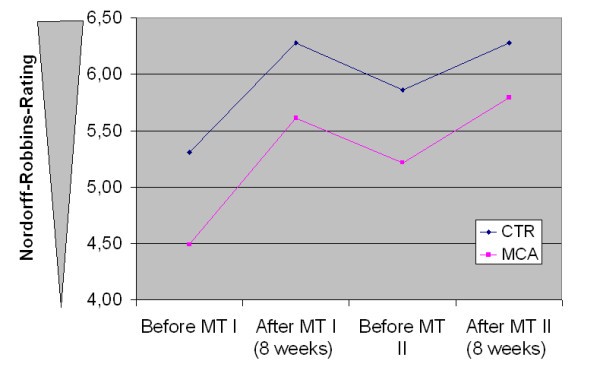 Compliance
The compliance of the children was a major problem in the developmental tests, particularly in completing the SETK-questionnaire. While the SON-R was well accepted by the children and Nordoff-Robbins items were scored by the therapist, completing the SETK with the children was difficult, yielding to incomplete items in the SETK subscales (between 14% (VS-Scale) and 36% (GW-Scale) of the items). However, the imputation of missing values reduced these rates to a mean level of 10% remaining incomplete items.
Discussion
This study is the first to provide valid information about the effects of music therapy in children with developmental speech delay. It was found that music therapy had an effect on fundamental qualities of speech development and resulted in significant improvements in phonological memory and the children's understanding of sentences. Furthermore, a positive shift in the memory of sentences and generation of morphological rules was observed. In particular, the difference between the developmental age and biological age of the children decreased significantly. These results were accompanied by a clinically significant effect of music therapy on the child-therapist relationship and musical communicative ability, as measured by the Nordoff-Robbins scales.
Conclusions
Music therapy according to this study may have a beneficial effect on speech development. It does not seem to influence individual isolated aspects of speech development but might address and integrate many different aspects in a comprehensive way that are important for speech development, including relationship abilities and prosodic abilities. It might be supposed that music therapy interacts with very fundamental aspects of speech development and has measurable effects even after a short period of time. Therefore, music therapy may provide a very fundamental, basic, and supportive therapy for children with developmental speech delay.
Declarations
Acknowledgements
We are grateful to the foundation Aktion Mensch for their generous support of this study.
Our thanks go to Dr. B. Irion, Dr. B. Berger and Dr. M. Mousers, who helped organize the study at the Herdecke Community Hospital, and Dr. K Boehm and Katie Renaud, who cross-checked the manuscript.
We also thank the following foundations whose support enabled us to evaluate and publish the results of the study: Gerhard-Kienle-Stiftung, Herdecke; Andreas und Emilie Olmstedt-Stiftung, Witten; Werner Richard- und Dr. Carl Dörken-Stiftung, Herdecke; Stiftung Musik HILFT by Nordoff-Robbins, Berlin and the Verein zur Förderung der Nordoff/Robbins-Musiktherapie e.V., Herdecke.
Authors' Affiliations
(1)
Nordoff Robbins Centre of Music Therapy, Witten, Germany
(2)
Department of Music Therapy, Community Hospital Herdecke, Herdecke, Germany
(3)
Center of Integrative Medicine, University of Witten/Herdecke, Herdecke, Germany
Copyright
© Groß et al; licensee BioMed Central Ltd. 2010
This article is published under license to BioMed Central Ltd. This is an Open Access article distributed under the terms of the Creative Commons Attribution License (http://creativecommons.org/licenses/by/2.0), which permits unrestricted use, distribution, and reproduction in any medium, provided the original work is properly cited.